Space and Satellite Hall of Fame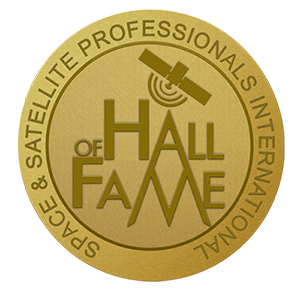 The Space & Satellite Hall of Fame recognizes the invaluable contributions of the visionaries who transform life on planet Earth for the better through space and satellite technology. Members of the Hall of Fame are recognized pioneers in communications, aerospace, scientific research, or the development and delivery of space and satellite applications for business, institutions and government.
Induction into the Hall of Fame is based on a record of significant achievement with such lasting value as: 
The successful introduction of new or improved technologies or services
The creation or growth of businesses, business models or markets 
New solutions to major economic, social and geographic challenges through imaginative application of space and satellite technology
Service to the industry through education, legal and regulatory advances and related contributions is also honored through the Hall of Fame.
Nominations
Nominations are now open for the 2021 Inductees to the Space & Satellite Hall of Fame. Click here to download the nomination form. Nominations are due by January 31, 2021.
19th Induction - 2020
The Space & Satellite Professionals International (SSPI) will induct three new members into the prestigious Space and Satellite Hall of Fame on Tuesday, March 10, 2020 at the annual Hall of Fame Celebration in Washington, DC. The inductees are:
 
 

In 2011, Steve Collar became CEO of O3b Networks, the company founded four years earlier by Hall of Famer Greg Wyler. The impact of his leadership soon made itself felt. Within two years, the company launched the first four satellites of its pioneering MEO constellation and added another eight the following year, and later bringing the number of O3b satellites launched to 20 in 2019. By 2016, O3b Networks had built a firm backlog of $350 million with more than $100 million in current-year revenue, making it the fastest-growing satellite operator in history. SES was one of the company's early investors and, in 2016, exercised its option to acquire O3b Networks. The deal created the first communications satellite operator with spacecraft in both GEO and MEO orbits. Steve was appointed CEO of SES Networks, the newly-formed data-centric business unit of SES, in May 2017.

 

Tory Bruno
President & CEO, United Launch Alliance

Tory Bruno came to the United Launch Alliance (ULA) in 2014 after a long career managing programs for some of the most advanced and powerful weapons systems in the American arsenal. When he was tapped to lead ULA – a joint venture of Lockheed Martin Space Systems and Boeing Defense, Space & Security – the company was at a crossroads. What had been an effective monopoly on national security and NASA missions had turned competitive as new commercial competitors entered the business. Tory launched a major restructuring of the company to improve its customer service, shorten launch cycles and cut launch costs in half – while maintaining its unprecedented 100% success rate on launches.

 

Paul Gaske
Executive VP and General Manager, North America, Hughes Network Systems

For much of its early history, the communications satellite business was all about video. TV distribution and contribution provided growing revenues and high margins, while giving broadcasters a uniquely cost-effective way to get programming to billions of viewers. But as early as the 1980s, Paul Gaske was pursuing a different destiny for the industry – a future in data networking. Working for Digital Communications Corp, which was acquired by MA-COM, he designed satellite TDMA for Intelsat signatories and became part of the team that invented the VSAT antenna and launched the satellite networking business. Then in 1987, Hughes acquired the company and launched a revolution in satellite services. With Paul spearheading development of products and services, Hughes Network Systems grew into the world's dominant supplier of VSAT technology for resource extraction, retail, enterprise networking and other markets.
18th Induction - 2019
The Space & Satellite Professionals International (SSPI) inducted three new members into the prestigious Space and Satellite Hall of Fame on Tuesday, May 7th, 2019 at the annual Hall of Fame Celebration in Washington, DC. The inductees were:
 
 

Matt Desch
CEO, Iridium Communications, Inc.

Matt Desch became CEO of Iridium Communications in 2006 after a twenty-five year career in the telecommunications industry that included serving as president of Nortel Networks' wireless business and chief executive of Telcordia Technologies. Since taking the helm, he has led Iridium from the depths of post-bankruptcy uncertainty and looming irrelevancy into a major contributor to the space and satellite industry. Matt has also served as an advocate for safety and responsible traffic management throughout the space, satellite and aviation industries for over a decade.

 

Henry Goldberg
Partner, Goldberg, Godles, Wiener & Wright

Henry Goldberg is a leading U.S. regulatory lawyer who has been a key figure in shaping the modern commercial space industry through development of U.S. and international legal and regulatory frameworks. Over a more-than-fifty-year career that began at Covington & Burling in Washington D.C. in 1966, Henry has opened legal doors to numerous innovations in satellite and broadcasting throughout the world, carving out regulatory territory for new types of companies and their technologies to grow and flourish.

 

Greg Wyler
Founder and Executive Chairman, OneWeb

Greg Wyler founded O3B Networks, in partnership with Liberty Global, in 2007 with the goal of unlocking MEO orbit to deliver Internet to remote areas without the need for laying fiber. By 2016, O3B had a firm backlog of $350 million with more than $100 million in current-year revenue, and SES exercised its option to purchase the company, whose markets had grown to include maritime, mobility, energy and government based on the success of its MEO fleet architecture. After the success of his first company, Greg founded OneWeb in 2012 with the vision of connecting all the unconnected schools of the world and providing Internet to fuel economic growth, improve education and social development, advance gender equality and make healthcare more accessible across the globe.
Hall of Fame Celebration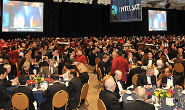 The Hall of Fame Celebration is the number-one place in our industry to see and be seen. Join us in honoring leaders of our industry as SSPI inducts them into the Space and Satellite Hall of Fame!