Space and Satellite Hall of Fame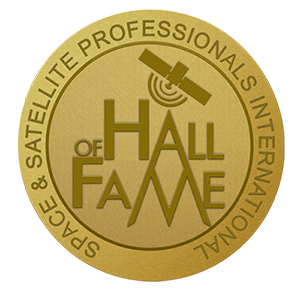 The Space & Satellite Hall of Fame recognizes the invaluable contributions of the visionaries who transform life on planet Earth for the better through space and satellite technology. Members of the Hall of Fame are recognized pioneers in communications, aerospace, scientific research, or the development and delivery of space and satellite applications for business, institutions and government.
Induction into the Hall of Fame is based on a record of significant achievement with such lasting value as: 
The successful introduction of new or improved technologies or services
The creation or growth of businesses, business models or markets 
New solutions to major economic, social and geographic challenges through imaginative application of space and satellite technology
Service to the industry through education, legal and regulatory advances and related contributions is also honored through the Hall of Fame.
 
Nominations Open
Nominations are now open for the 2020 Space & Satellite Hall of Fame! Click here to download the nomination form. Nominations are due by January 10, 2020.
18th Induction - 2019
The Space & Satellite Professionals International (SSPI) inducted three new members into the prestigious Space and Satellite Hall of Fame on Tuesday, May 7th, 2019 at the annual Hall of Fame Celebration in Washington, DC. The inductees were:
 
 

Matt Desch
CEO, Iridium Communications, Inc.

Matt Desch became CEO of Iridium Communications in 2006 after a twenty-five year career in the telecommunications industry that included serving as president of Nortel Networks' wireless business and chief executive of Telcordia Technologies. Since taking the helm, he has led Iridium from the depths of post-bankruptcy uncertainty and looming irrelevancy into a major contributor to the space and satellite industry. Matt has also served as an advocate for safety and responsible traffic management throughout the space, satellite and aviation industries for over a decade.

 

Henry Goldberg
Partner, Goldberg, Godles, Wiener & Wright

Henry Goldberg is a leading U.S. regulatory lawyer who has been a key figure in shaping the modern commercial space industry through development of U.S. and international legal and regulatory frameworks. Over a more-than-fifty-year career that began at Covington & Burling in Washington D.C. in 1966, Henry has opened legal doors to numerous innovations in satellite and broadcasting throughout the world, carving out regulatory territory for new types of companies and their technologies to grow and flourish.

 

Greg Wyler
Founder and Executive Chairman, OneWeb

Greg Wyler founded O3B Networks, in partnership with Liberty Global, in 2007 with the goal of unlocking MEO orbit to deliver Internet to remote areas without the need for laying fiber. By 2016, O3B had a firm backlog of $350 million with more than $100 million in current-year revenue, and SES exercised its option to purchase the company, whose markets had grown to include maritime, mobility, energy and government based on the success of its MEO fleet architecture. After the success of his first company, Greg founded OneWeb in 2012 with the vision of connecting all the unconnected schools of the world and providing Internet to fuel economic growth, improve education and social development, advance gender equality and make healthcare more accessible across the globe.
17th Induction - 2018
The Space & Satellite Professionals International (SSPI) inducted three new members into the prestigious Space and Satellite Hall of Fame on Tuesday, March 13th, 2018 at the annual Hall of Fame Celebration in Washington, DC. The inductees were:
 
 

As VP of business development, Gwynne led the effort to build the Falcon vehicle manifest to over 50 launches representing $5 billion in revenue including commercial resupply services for delivery of cargo and supplies to the International Space Station.  She became President and Chief Operating Officer in 2008, and assumed responsibility for day-to-day operations and for managing the customer and strategic relationships that support company growth.  Under her leadership, SpaceX's backlog has grown to more than $7 billion worth of launches while achieving a set of remarkable milestones.

 

Terry Hart
Former Astronaut and Professor of Practice in Mechanical Engineering, Lehigh University

Terry won undergraduate and graduate degrees in mechanical and electrical engineering while on active duty with the Air Force Reserve and working on the technical staff of Bell Telephone Laboratories. He was selected as an astronaut candidate by NASA in 1978. After serving as CAPCOM in Mission Control for multiple Shuttle flights, he flew as a mission specialist on STS 41-C. Returning to the private sector, he became supervisor of the information systems engineering department at Bell Labs and was then named president of Loral Skynet, operator of the Telestar fleet.

 

In a career spanning military service and entrepreneurship, Otto Hoernig has been a pioneering innovator in satellite communications and space based technologies. In his early career, he was Chief of Scout Launch Operations at VAFB launching NASA, International Consortium and special mission DoD satellites including the Transit Navigational Satellites, predecessor to GPS. After his retirement from the US Air Force as a Lieutenant Colonel, Hoernig began his second career with the American Satellite Company, followed by Contell and International Microspace. Then in 1994, Otto seized the opportunity created by rising conflict in the Balkans and Middle East to found Spacelink International.
Hall of Fame Celebration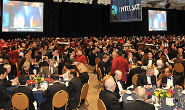 The Hall of Fame Celebration is the number-one place in our industry to see and be seen. Join us in honoring leaders of our industry as SSPI inducts them into the Space and Satellite Hall of Fame!