Steven Dorfman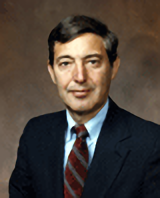 During his forty-plus year career at Hughes Electronics, Steven Dorfman played a key role in a series of major space and satellite programs whose scientific, technical and service legacy will endure well into the 21st Century.
Throughout the Sixties and early Seventies, Mr. Dorfman held a series of leadership positions with some of Hughes' most prominent civil space programs. His work on Landsat, the Orbiting Solar Observatory and the Geostationary Meteorological Satellite programs left a legacy that endures today. One of Mr. Dorfman's many notable career achievements was the Pioneer Venus program. Under his direction, the Hughes Pioneer Venus team landed four probes on the Venusian surface and put a scientific satellite into orbit around the planet. He earned NASA's Distinguished Public Service Medal for his work on this important planetary exploration program.
From the early Eighties onward, Mr. Dorfman played a pivotal role in the ascendancy of Hughes Electronics (HE) to global leadership in commercial satellite applications. As president and CEO of Hughes Communications, he helped pioneer the concept of the "cable neighborhood" with the 1983 launch of Galaxy I, a strategic development that catalyzed the growth of the cable and direct to home industries in the U.S. and abroad.
During his long tenure at HCI and subsequently with HE corporate management, Mr. Dorfman fostered the development of technological and marketing innovations that helped propel new commercial satellite markets, such as mobile communications (AMSC) and digital direct-to-home service in the USA (DIRECTV). His efforts on behalf of Japan's first commercial satellite system, JCSAT, of which Hughes was a 30 percent owner, also hastened the privatization of satellite services in other countries.