Eddy Hartenstein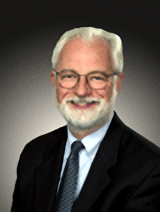 Eddy Hartenstein's name is synonymous with the development of direct-to-home satellite television services in the United States. As founding president in 1999, then chairman and CEO, he assembled the DIRECTV management team and guided its strategic efforts to develop the business infrastructure necessary to launch the United States' premier direct-to-home entertainment distribution service. DIRECTV has been awarded three technical Emmy Awards for its contributions to digital broadcast satellite technology. He retired as vice chairman of The DIRECTV Group in 2004.
From 1987 through 1990, Mr. Hartenstein was senior vice president of Hughes Communications, Inc. In that capacity, he was responsible for expanding Hughes' acquisition and deployment of commercial communications satellites. Hughes Communications merged with PanAmSat in 1996 and today operates a worldwide fleet of 21 satellites.
Between 1984 and 1987, Mr. Hartenstein served as president of Equatorial Communications Services Company in Mountain View, Calif., which was subsequently acquired by GTE. Equatorial provided nationwide telephony and data distribution services for a variety of Fortune 100 companies. Prior to joining Equatorial, Mr. Hartenstein was vice president of Hughes Communications, from 1981 to 1984. In that position, he directed the marketing and development of the original Galaxy satellite fleet, serving the broadcast television and cable programming industries. Mr. Hartenstein joined Hughes Aircraft Company in 1972. Before transferring to Hughes Communications in 1981, he held a succession of engineering, operations, and program management positions at Hughes Space and Communications Company and NASA's Jet Propulsion Laboratory.
Mr. Hartenstein sits on the board of directors of Thomson Multimedia and the Consumer Electronics Association. He was inducted into the National Academy of Engineering (NAE) Class of 2001, and in 2002 he was inducted into the Broadcasting & Cable Hall of Fame.