Peter Marshall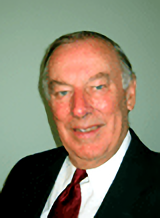 In 1956, following service as an officer in Her Majesty's Royal Navy, Peter Marshall migrated to the British Broadcasting Company (BBC), the world's most influential broadcasting organization, where he was first a news reporter in radio and then in TV. Soon he became BBC's news director for the South of England.
Beginning in 1966, and for the next 20 years, Mr. Marshall was with London-based Visnews, the international television news agency that is now part of Reuters. He became General Manager and CEO and in the early 1980s, led the Visnews transition into a global satellite-based operation. For example, he helped launch the first shared-cost daily syndicated news service by satellite, ten minutes daily, between UK and Australia; then the Wold-Visnews Broadcast Service which provided six Japanese TV networks with a 24-hour news access in North America beginning in 1984; and then the Brightstar 24-hour trans-Atlantic service now owned by British Telecom.
In 1986, Mr. Marshall was recruited by Intelsat to head a new Broadcast Services Division in Washington DC, helping improve Intelsat's services to broadcasting organizations worldwide, as the prospect of competition approached. In 1989, he joined Keystone Communications as President of the newly-formed international satellite transmission services company, and led its growth into European and Asian markets. He retired in 1998 following the completion of France Telecom's acquisition of Keystone to become part of their GlobeCast group. Peter continues with other business interests on both sides of the Atlantic.
He joined SSPI in 1983 and was soon the first Vice President for International Liaison. In 1987, at SSPI's Great International Celebration of Satellites in Space, Mr. Marshall provided memorable BBC-style introductions, with bagpipe accompaniment, of SSPI's first inductees into the Hall of Fame.
He served as SSPI's President from 1987-92 and remained a member of the Board until 1999. Having been Chairman of Britain's Royal Television Society in 1985, he became a Fellow of the Society in 1986. He created the North American Chapter of the RTS in 1987; is a member of the World Teleport Association (WTA) which named him its "Executive of the Year" in 1997; and is a member of the Board of the Arthur C. Clarke Foundation of the United States.