Making Leaders Reports
SSPI's "Making Leaders" report series includes reports on hiring practices and developing talent with more coming soon. These reports are free for SSPI Members and available for purchase by others.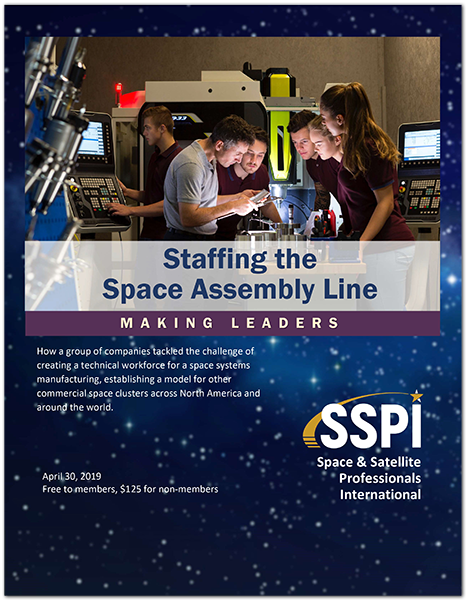 Staffing the Space Assembly Line
This report examines how a group of companies on the Space Coast of Florida, centered on historic Cape Canaveral, tackled the challenge of creating a workforce for a space/aerospace/advanced manufacturing industry that has suddenly developed a much greater appetite for technical labor. The approach they took and the collaboration they forged is a model for other commercial space clusters across North America and around the world.  MORE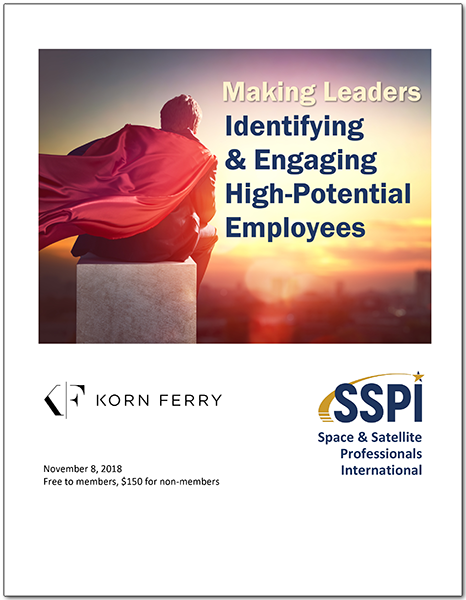 Identifying and Engaging High-Potential Employees
Companies need a few influential, high-performing employees who lead others to success. In the talent business, they are known as "high potentials," and companies in space and satellite can't get enough of them, in small and midsize companies as well as large ones. The report offers specific guidance for the small to midsize company on using limited resources to get the biggest impact.  MORE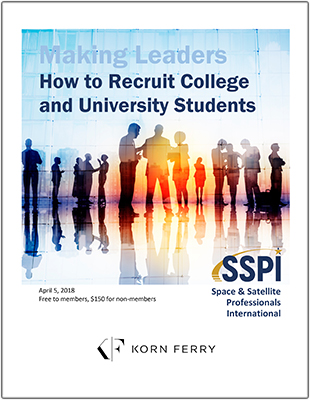 How to Recruit College and University Students
One of the innovation leaders in the industry, SpaceX, now does most of its hiring from colleges and universities. In contrast, most companies in the industry prefer to hire from a pool of experienced candidates typically poached from competing firms, according to SSPI's 2016 workforce study Launch Failure. As the sector races into uncharted territory, its success will depend on turning the raw promise of new graduates into a never-ending stream of innovations. MORE
Bringing New Hires on Board: From Promise to Purpose
Bringing on new employees is a moment filled with promise.  They could rise into business or technical management, create new technologies and markets, and trigger years of strong growth.  Or they could underperform, grow dissatisfied and be gone in a year or two, taking their knowledge and skills to another employer.  MORE
Workforce Reports
SSPI conducted two studies, one in 2015 and one in 2016, analyzing the hiring practices and other workforce data of space and satellite companies. These reports are free for SSPI Members and available for purchase by others.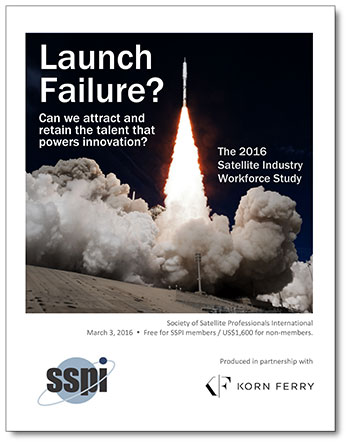 Launch Failure: Can We Attract and Retain the Talent That Powers Innovation?
Today's industry relies heavily on a cadre of experienced workers in the 45-54 age range, who make up 42% of employees.  At the same time, a shocking 67% of employees with between 1 and 5 years on the job voluntarily leave their companies. Is it high attrition among younger employees that leads companies to rely on veterans, or does the reliance on veterans close off career paths for the next generation? Whatever the answer, one thing is clear: a successful tech industry should be sending fewer of its newest employees out the door, and rely less on those who will be heading off to retirement within the next 20 years. MORE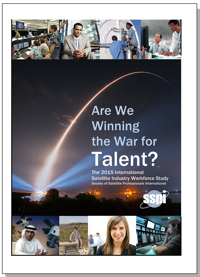 Are We Winning the War for Talent?
The report compares compensation across job categories and regions, and analyzes employee engagement at all levels.  It depicts an industry whose workforce remains stable but which faces drastically changing needs for skills and expertise, and which is in the process of replacing an aging workforce. Yet 60% of companies report having no formal internship or work-study programs to attract graduates, and all face the challenge of recruiting into an industry of which students are largely unaware. MORE
Sponsored By