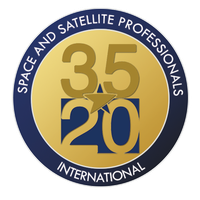 (September 17, 2020 – New York City) – The Space & Satellite Professionals International (SSPI) today announced the third annual "20 Under 35" list of outstanding young space and satellite professionals age 35 and under. The honorees will be celebrated at SSPI's virtual Future Leaders Celebration on October 6 during Satellite Innovation 2020 Virtual. The 2020 "20 Under 35" list is sponsored by Hogan Lovells, Isotropic Networks, Maxar Technologies and Momentus Inc.
SSPI's annual list of "20 Under 35" features 20 employees and entrepreneurs to keep your eye on in coming years. They were selected from nominations submitted by companies recognizing excellence in their young talent, by entrepreneurs seeking to make their mark on the industry, and by peers seeing and applauding leadership and achievement. The nominations were evaluated by a panel of judges including Joseph Amor, Alain Rolle of ST Engineering iDirect, James Shaw of Telesat, Chris Quilty of Quilty Analytics, Patrick Rayermann of Linquest and Kathleen Karika of Maxar. These individuals are also among the Mentors supporting SSPI's student outreach programs. At the Future Leaders Celebration, the three top-ranked members of the 20 Under 35 will be named as this year's Promise Award winners.
"Each year's 20 Under 35 list is an inspiration," said executive director Robert Bell. "Long before they are in a position in the organizational chart to have a material impact, they have added major value to their companies with effects that will be felt far into the future."
The 20 Under 35 of 2020:
Harriet Brettle, Head of Business Analysis, Astroscale
Reina Buenconsejo, Ph.D. Student, Chemistry Dept., California Institute of Technology
Bethany Downer, Public Information Officer, European Space Agency – Hubble Space Telescope
James Farrell, Associate Technical Fellow, Boeing Space and Launch
Giulia Federico, Co-Founder, Space Products and Innovation GmbH (SPiN)
George John, Associate, Hogan Lovells
Pierre-Alexis Joumel, Business Growth Manager, Airbus Defence and Space
Taylor Kerl, Systems Engineer, Maxar Technologies
Adnan Al Muhairi, Deputy Chief Technical Officer, Yahsat
Dr. Tobias Niederwieser, Research Associate, University of Colorado-Boulder
Joost van Oorschot, Founder and CEO, Maana Electric SA
Melissa Orlick, Director of Maritime Communications, Isotropic Networks
Nicholas Puschman, Associate, Bird & Bird LLP
Sahith Reddy Madara, Aerospace Research Engineer – Cube Satellite Lab, University of Sharjah
Manny Shar, Head of Analytics, Bryce Space and Technology
Dr. Jeffrey Stuart, Technologist/GNC Engineer, NASA Jet Propulsion Laboratory
Derek Thompson, PhD, Lead Propulsion Systems Engineer, Phase Four
Fatmah Al Yammahi, Flight Dynamics Manager, Yahsat
Brittany Zajic, Business Development and Disaster Response Operations Lead, Planet Labs Inc.
Brittany Zimmerman, Aerospace Engineer, Paragon Space Development
Full profiles of the 20 Under 35 can be found at www.20under35.com.

About SSPI
Founded in 1983, Space & Satellite Professionals International (www.sspi.org) is on a mission to make the space and satellite industry one of the world's best at attracting and engaging the talent that powers innovation. The space and satellite business has never seen a time of greater experimentation and disruption than we see today. Investment is the fuel for transformation, but people are the engine. SSPI helps the industry attract, develop and retain the talented people it needs to keep the engine turning. People who connect through high-profile events and gain recognition from prestigious awards. People who rely on SSPI for a broader understanding of the industry as much as for individual networking and career mentoring. From young people seeking a career path to industry veterans with wisdom to share, SSPI connects them all.
Talent, investment and opportunity flow to industries that make a difference. SSPI is the only organization that also promotes the enormous value of space and satellite through dramatic stories of our technologies and companies making a better world. Those stories overturn misconceptions about the industry that hold it back. They inspire our people and attract new ones to the industry. They help justify investment and give new customers a reason to care about our services and products. Through the stories we tell and the people we serve, SSPI inspires the growth of the $1 trillion space economy of the future.

For More Information
Victoria Krisman
Communications Manager
Space & Satellite Professionals International
vkrisman@sspi.org
---