SSPI 2020 Future Leaders Celebration
Meet the Industry's Future!
Join us at the 15th annual SSPI Future Leaders Celebration, a benefit event that supports our programs to attract and retain the next generation of the space and satellite industry. The event will be held virtually in conjunction with the virtual Satellite Innovation 2020 conference, produced by SatNews publishers. The virtual Future Leaders Celebration will be held live via Zoom and will include breakout rooms for chatting and networking with your colleagues throughout the industry.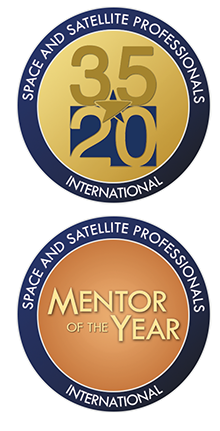 This inspiring and entertaining event, held October 6, 2020, honors the third annual cohort of the "20 Under 35" young space and satellite professionals to watch in the years ahead. "20 Under 35" honorees are employees or entrepreneurs who have demonstrated initiative, creativity and problem-solving skills that created new capabilities, overcame major challenges, and ensured excellence in technology and service. The three top-ranking on the list will be announced that night and honored with a Promise Award, recognizing their status as leaders of the 2020 cohort. Also at the Future Leaders Dinner, the Mentor Award will be given to a satellite executive who has fostered young talent, both within his or her organization and throughout the industry, and also has volunteered time and energy in support of the industry.
To learn more about the Promise and Mentor Awards presented at the dinner, click here!
The Future Leaders Celebration is proud to partner with the Satellite Innovation 2020 virtual conference.


Branding opportunities at the Future Leaders Dinner are available. Contact Tamara Bond-Williams for more information.