Sponsored by

On the banks of the Amazon River in Ecuador lies a village called Puerto Salazar. Though small, the village does have a school, and one day Franciso Licuy arrived to be its teacher. He was still one semester short of completing his university studies. It looked like he might not get the chance, because the village had no internet access.
Then a friend told him about something called HughesNet, which could bring him the internet by satellite. He arranged an installation. Soon, he was finishing his final semester online – and introducing students to the educational wealth of the world wide web.
A Quality Education Requires Reliable Internet Access
For the eight billion people on planet Earth, in rich countries and poor, education is the key to a good life. In the world's rich nations, the average high school student who drops out before graduating will earn less than half what a college or university graduate makes. The gap is even bigger in emerging economies. In Peru, for example, a high-school graduate makes only one-third the income of a graduate from university.
But without access to the internet, a quality education is hard to come by. In Latin America, broadband reaches only half as many subscribers as it does in North America and Europe. That gap denies students the education they need for today's jobs, and robs businesses of the skilled people their success should depend on.
HughesNet Provides the Access Needed to Bridge the Gap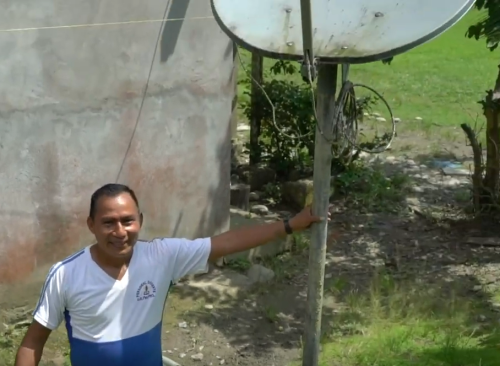 Companies like Hughes are doing something about it, connecting millions of people to the internet with satellite.
And remote villages are not the only places falling into the broadband gap. Callao is Peru's chief seaport and airport. It borders Lima, the nation's capital – but none of its eleven high schools had internet access. Frustrated parents bought pre-paid cellphones just so their children could go online. HughesNet service installed at each school changed everything.
The schools downloaded educational content to their computers, and students and staff connected to it through Wi-Fi. Without the expense of individual internet accounts, the students gained access to 60,000 books on over 25 million topics, refreshed regularly from internet downloads.
The same story is playing out in Mexico, Brazil, Chile and Peru. Through innovators like Hughes, the smart use of satellite is bringing schools online that might never have gained access, at a cost that governments in these nations can afford. And that is bringing the good life closer for billions of people.

Hughes Network Systems, LLC (HUGHES), an innovator in satellite and multi-transport technologies and networks for 50 years, provides broadband equipment and services; managed services featuring smart, software-defined networking; and end-to-end network operation for millions of consumers, businesses, governments and communities worldwide. The Hughes flagship Internet service, HughesNet®, connects more than 1.5 million subscribers across the Americas, and the Hughes JUPITER™ System powers Internet access for tens of millions more worldwide. Hughes supplies more than half the global satellite terminal market to leading satellite operators, in-flight service providers, mobile network operators and military customers. A managed network services provider, Hughes supports nearly 500,000 enterprise sites with its HughesON™ portfolio of wired and wireless solutions. Headquartered in Germantown, Maryland, USA, Hughes is owned by EchoStar. To learn more, visit www.hughes.com or follow HughesConnects on Twitter and LinkedIn.