Erin Feller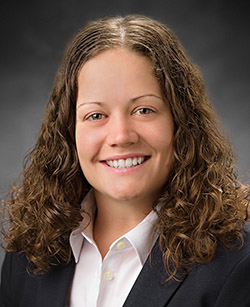 Advanced Government Space Systems Project Manager, Boeing Network & Space Systems
During her time at Boeing, Erin has led space and ground architecture studies aimed at revolutionizing the future of the industry. She has consistently demonstrated her strong communication and leadership skills both within the company and with government customers. According to her direct manager, Matt Richards, Erin "is regularly sought after within the Boeing satellite business as one of the top proposal leads" and he has been "approached by Boeing executives across government and commercial satellite systems organizations requesting Ms. Feller by name to support their highest priority new business campaigns."
Playing a Critical Role in Development
Early in her career at Boeing, Erin was instrumental in establishing the Concurrent Integrated Engineering Laboratory (CIEL), used for rapid satellite design development at the Boeing Satellite Design Center. Using the experience and insight she gained from working on the CIEL, she went on to perform many design to cost exercises for the development of commercial-like concepts for military satellite communications spacecraft. Erin has led several critical programs at Boeing, recently including one of the company's largest business orders for 2016. Erin is also spearheading an effort to develop new commercial-like offerings for international partners on military satellite communications (MILSATCOM). As part of this effort, she led the team in developing three different technical spacecraft offerings as well as business strategy.
In addition to her technical, leadership, project management, and business skills, Erin brings energy, creativity and focus to the greater satellite enterprise, and she is known for inspiring the same in others who work with her. She has consistently developed innovative teams as a leader at Boeing, teams that her customers acknowledge as focused and efficient. Erin has been selected for Boeing's Emerging Leader Development Program and hopes to take on more leadership roles and responsibility in the future.
Beyond her many achievements, Erin has consistently worked to help other engineering students beginning during her days as one of them. While working on her Mechanical Engineering degree at the University of Nebraska, she spent two years as a resident assistant and leading recruiting and social activities in the engineering department as an Engineering Ambassador. While at Boeing, Erin has dedicated much of her personal time to helping newly hired Boeing engineers. She is a founding member of "Boeing Spacecraft and Flight Systems Engineering Early Career Think Tank" as well as part of the original team that developed and implemented a campus-wide new hire and early career summer training program.