Pascale Dumit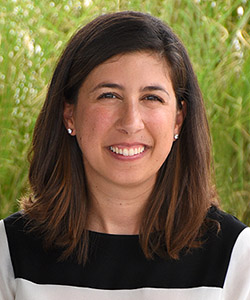 Manager of Spectrum Management and Development for the Americas, SES
Pascale began her career in the satellite industry in 2005 at Hughes, where she designed and commissioned broadband satellite networks in Africa and the Americas. Pascale went on to work as a consultant at ITT Exelis (now the Harris Corporation) where she supported NASA as well as the Department of Defense on a broad range of international spectrum management issues and contributed to the overall development and implementation of strategy in national and international spectrum regulatory environments.
Leadership on Spectrum
As a Manager of Spectrum Management and Development at SES, Pascale manages spectrum matters both at the Federal Communications Commission (FCC) and the International Telecommunication Union (ITU) and is responsible for the development and protection of spectrum assets for select SES projects over the Americas. She is currently leading all domestic and international spectrum-related activities, including coordination and licensing for SES-15, a new high throughput satellite to be launched in 2017 and expected to serve SES's leading aeronautical customers and other traffic intensive data applications such as government, VSAT networks and maritime.
Most Reliable, Effective Advocate
Throughout her career, Pascale has demonstrated a natural leadership as well as an inherent ability to bring together various parties and drive collaboration among them to achieve successful results. According to Kimberly Baum, Vice President of Spectrum Management and Development for the Americas and Pascale's manager, she regularly has "government representatives request that Pascale attend their meetings; they know she is the most reliable, effective advocate they could have to achieve the US's objectives at any given meeting."
In a particularly exemplary display of coordination and leadership, Pascale was instrumental in coordinating efforts among the satellite industry representatives at the international meetings leading up to the ITU World Radiocommunication Conference (WRC-15) and led major advocacy efforts that resulted in the protection of existing spectrum for SES's customers and regulatory certainty for the industry.
In addition to her many achievements at SES, Pascale is an active member of her community. For the last 10+ years, she has consistently dedicated herself to helping other engineers succeed. Pascale was recently recognized by her alma mater, George Washington University, for her service to the university community and received the university's 2016 Alumni Outstanding Service Award. She served as Chair of the Engineering Alumni Association (GW EAA) from 2013 to 2015, and held several other positions within the GW EAA in previous years. Pascale remains involved in the GW EAA to this day.