Dr. Jennifer Dawson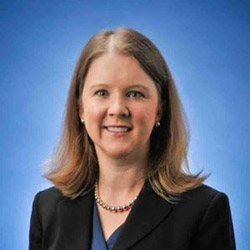 Director, Marketing & Sales, Space Systems Loral (SSL)
Before joining the company, Jennifer was a researcher at Stanford University, where she developed a cryogenic test facility, conducted experiments on a superconducting position sensor, defined requirements, and fabricated and tested customized electrical connectors. While at Stanford, Jennifer received a NASA Group Achievement Award in 2005 for her work on the Gravity Probe B relativity gyroscope experiment developed by NASA and the university. After finishing her PhD, she went on to teach for two years at York College in Pennsylvania.
Senior Spacecraft Systems Engineer
Jennifer joined SSL in 2010 as a Senior Spacecraft Systems Engineer. In that position, she performed critical analysis of satellite design and led teams in design, test, and anomaly resolution. In particular, she led the mechanical design and environmental accommodation team for a NASA-hosted payload. In 2012, Jennifer became the Chair of SSL's Shock Committee. The Committee defines company-wide shock qualification requirements and oversees design and test for shock caused by the extreme environment that a satellite has to withstand at launch. As Chair, she redefined the company's qualification requirements, simplifying them and eliminating over specification.
Jennifer became Product Assurance Program Manager in 2015 and was one of the youngest employees at SSL to ever take on this position. In this role, she led the mission assurance team for one of SSL's satellites to ensure spacecraft quality and reliability.  She oversaw all analysis, design, integration, and testing, and helped the customer directly with their own oversight. In September 2016 Jennifer assumed her current role as Director of Marketing and Sales, where she channels her technical and customer-focused experience into helping satellite operators develop systems that strengthen their businesses.
Establishing New Standards
Her experience as a teacher and researcher has helped Jennifer drive SSL to establish new technical standards and to educate her colleagues in putting these new practices into place. She is known for looking beyond established practices for solutions to problems and is always offering fresh approaches and ideas when confronted with a challenge. According to Senior Vice President of Program Management David Bernstein, Jennifer is "dedicated to doing things the right way" and "explains things very well and is always open to teaching what she knows." She excels at managing and training others both inside and outside the company and is currently mentoring students through both Bucknell University and Stanford University.