Mentors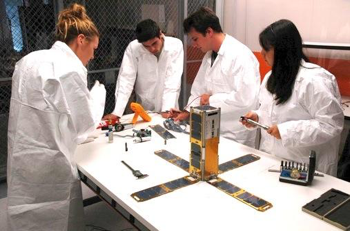 Our partnerships with student organizations are making thousands of talented young people more aware of career opportunities in the satellite industry.  To do that work, we depend on satellite professionals in our membership to serve as mentors to student groups and individual students.  They participate in conference calls, review information and offer advice based on their experience in the industry.  When we sponsor student competitions, they serve as our judges.  We honor their contributions and thank them for helping our industry compete in the global war for talent.
Current Mentors

  Joseph Amor
  Vice President and General Manager, Microspace Communications

  Edward Ashford
  President, Ashford Aerospace Consulting

  Denis Curtin
  Member, Satellite Hall of Fame

  Dawn Harms
  Vice President, Business Development, Boeing Space Systems International

  Edward Horowitz
  Chairman of the Board, Fairpoint Communications
  Member, Satellite Hall of Fame

  Susan Irwin
  President, Irwin Communications
  Member, Satellite Hall of Fame

  Brian Mengwasser
  Engineer, Innovation Projects, SES
  Promise Award Winner 2012

  Clay Mowry
  Sales, Marketing & Customer Experience, Blue Origin
  Mentor of the Year 2013

  Eloy Salcedo
  Senior Customer Solutions Engineer
  Intelsat Global Sales & Marketing Ltd.
  Chris Stott
  Chairman & CEO, ManSat
  Mentor of the Year 2015

  Paul Unger
  President, Paul Unger NBS Search

  David Whalen
  Associate Professor, Space Studies, University of North Dakota
  Mentor of the Year 2014

  Chris Faletra
  Teleport Sales Director, COMSAT

  Kathleen Karika
  Business Development, Commercial Space, Lockheed Martin Space Systems