Donna Potter
Senior Executive Director of Research and Development, Maxar (retired)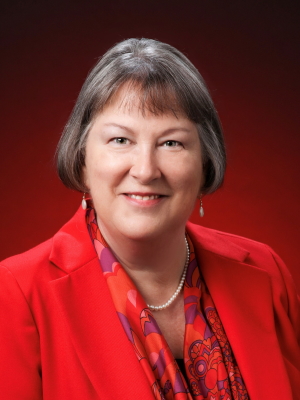 Until her retirement in 2019, Donna Potter served as Senior Executive Director of Research and Development at Maxar, after she originally took on the position at Space Systems/Loral (SSL) in 2011. She managed the research and development portfolio for SSL and later Maxar, furthering the technologies the company needed to remain competitive in the GEO communication satellite market. Donna's responsibilities included crafting strategy for new technology development and driving progress and productivity on a wide array of technical projects. Along the way, she also helped employees develop critical project management and technical leadership skills, which resulted in multiple researchers publishing technical papers and earning patents under her leadership. She was instrumental in SSL's transition from working exclusively with commercial customers to executing government contracts, including the Spider program for in-space robotic assembly of spacecraft and the Psyche mission to explore an asteroid.
Donna has consistently made time throughout her career to mentor others both within her companies and the industry as a whole, even taking time out for them after her retirement. As a manager, she provided frequent opportunities for her subordinates to learn more about leadership, including organizing a book club to read and discuss The Ideal Team Player. Donna has served as a role model for many women seeking to improve their leadership skills and rise through the ranks and went the extra mile with several mentees to help them adopt strategies to be taken more seriously in positions of authority. Throughout the growth process, she consistently provided emotional support in addition to strategic guidance even when dealing with uncomfortable situations such as harassment.
While at SSL, Donna served as the executive sponsor for a newly formed women's Employee Resource Group (ERG). She worked closely with the leadership team to help them formulate a shared leadership model, where leaders took turns facilitating meeting and stepping up to do what was needed. This new system led to a particularly efficient and effective ERG, where a number of Donna's mentees were able to ease into leadership experience and grow while helping others to do the same.
Even after retiring in 2019, Donna continues to support her mentees. She participated in a monthly Zoom group with 7 of her female mentees from Maxar at the start of the pandemic to reconnect and provide mutual support. Donna helped to provide a compassionate and safe environment for those women, who were struggling with a variety of challenges. The Zoom group gave all 7 women a place to be heard and supported by their peers, allowing them to cope with the worst the pandemic had in store both at home and work.
Before joining SSL and later Maxar, Donna spent 14 years at Lockheed Martin, where she served in a variety of roles, including Project Engineer, Research Engineer, Deputy Program Manager and finally Senior Program Manager. While at Lockheed Martin, she worked on the Space Station Biological Habitat development and was responsible for the CCD Digital X-Ray sensor product line. Donna moved on to join Rockwell Collins for an additional 8 years, where she served as an Engineering Manager, Program Manager and ultimately as Director of Programs. In her role as Director of Fighter Aircraft Display Programs, she played a critical role in delivering advanced displays for the F/A-18 and F-15, giving pilots accurate weapon and flight symbology. As Manager of Advanced Engineering Donna played a critical role in developing helmet-mounted and heads-down displays for the F-35, enabling the $30M follow-on contract. After leaving Rockwell Collins, Donna worked for Northrop Grumman for 4 years as Director of Development and Integration. While at Northrop Grumman, she led the team that successfully tested the world's first 36.5-megawatt high temperature superconductor ship propulsion motor, providing more capability to the warfighter at lower costs.
Outside of work, Donna has long been active in the industry and local causes. She has held multiple leadership roles for the Society of Women Engineers (SWE), including Deputy Regional Director, Section President and Section Representative. Donna also served as a reviewer for the Aerospace Corporation's report on "Design Review Improvement Recommendations" to prevent design escapes from leading to on-orbit failures. She is a lay leader at First United Methodist Church where she is a strong advocate for inclusion and racial justice issues. Donna also served as Zoom Coordinator for her congregation to facilitate safe worship during the COVID-19 pandemic. She is also a recipient of SWE's Distinguished New Engineer Award and Lockheed's Women's Advocate Award.