This video debuted at the 2021 Chairman's Reception.
Sponsored by

These days, the people of Earth are launching more than 100 rockets into space every year. They fly upward from North and South America, Europe and Asia. A few of them carry astronauts – but most rockets put satellites into orbit to work for us on the ground. And the most impressive thing satellites do – thousands and thousands of times each year – is to save people's lives.
How can a satellite in space save people on the ground? It's not magic. It's the imagination, daring and determination of thousands of people who work in the space and satellite business.
Satellites Help Put Food on the Table and Knowledge in Your Hands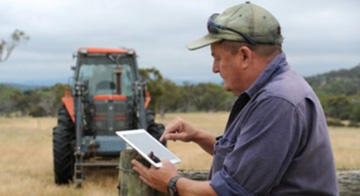 One big example is food. Farms are big users of satellites. Farmers use them to check on the health of crops and guide tractors precisely across their fields. Sheep and cattle wear satellite tags that monitor their location and protect them while they graze. Using satellites helps farmers put more food on the table at lower prices and makes farms friendlier to the environment.
And food is just the beginning. Most of the products you use every day – from the shoes on your feet to the phone in your hand – have reached you by ship from distant factories. Living and working at sea can be dangerous. Storms, engine failures and shipwrecks happen every year. Since 1976, sailors have relied on satellites to know where they are, to steer a safe course and to call for help in emergencies.
Satellites also make us smarter. Almost three billion people around the world cannot reach the internet. For them, satellites connect schools to deliver the latest and best lessons in science and math, history and the arts. They bring the internet to small villages and remote towns cut off from the world. All that learning and information helps people make more money, live healthier lives and give their kids a chance at a better future.
Keeping Us Safe
The natural beauty of remote places has attracted travelers for centuries. But the wild corners of the world also have their dangers. Travelers today who are lost or hurt in the wilderness can now push a button on a handheld gadget to send their location and a call for help by satellite. Just one satellite company has rescued more than 6,000 people in the past 10 years.
Even our familiar neighborhoods can turn wild. Floods, hurricanes and tornadoes strike the world every year, and wildfires driven by hot weather and wind can burn huge tracts of land. Weather satellites provide the data we need to forecast disasters in advance. And when disaster has wiped out phone, text and internet service, satellites support the first responders who race to help the injured and direct people away from danger.
Space is a dangerous place, without air, with blazing heat and freezing cold, and full of deadly radiation. But here on earth, space saves lives. The satellites we send rocketing into orbit make a difference to billions of people every year. 
It's not magic. It's imagination, daring and determination. It's people just like you who chose a career out among the stars.

Hunter Communications provides satellite solutions for government, energy, broadcast, maritime and aeronautical sectors. Hunter's core business pairs satellite capacity with the latest ground segment technology to provide innovative satellite communications solutions. Hunter brings to its customers, current in-depth experience and technical knowledge of the global satellite market.
Founded in late 2001, Hunter Communications, Inc. is an independent satellite communications ("SATCOM") provider that fosters long-term relationships between clients and providers, offering solutions for short or over-supply bandwidth procurement, efficient engineered technical designs, and on-going technical support.
Smaller sized firms as well as many of the industry's largest have come to Hunter to resolve their unique satellite requirements.  On a daily basis all Hunter team members negotiate, analyze and search for capacity opportunities that may give Hunter clients an advantage in the marketplace. huntercomm.net