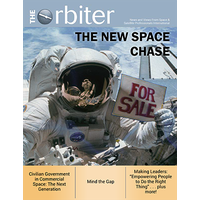 SSPI has released a new issue of The Orbiter: The New Space Chase!
For decades, commercial space lived on one side of a high wall, and government and military space (with its prime contractors) lived on the other. Now that wall is coming down, piece by piece, thanks in part to the relentless efforts of leaders and in part to an irresistible logic. Innovation and risk-taking are in the DNA of business. Continuity and protection from harm are in the DNA of government. Put them together and you get today: a time when innovators on both sides of the wall are finding new ways to make partnership pay off for space agencies, for business, and for the citizens of their nations.
In this issue:
Civilian Government in Commercial Space: The Next Generation

Mind the Gap

Incubating Future Industry Leaders

Making Leaders: "Empowering People to Do the Right Thing"

Plus more!
Read the issue now:
---