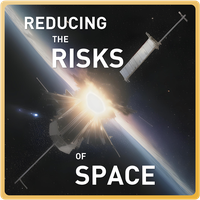 (May 8, 2023 – New York City) – Space & Satellite Professionals International (SSPI) today announced the beginning of Reducing the Risks of Space, a multi-week campaign featuring videos, podcasts, live online conversations and a new issue of SSPI's digital magazine, The Orbiter. The campaign explores the policy, law, technology and operations in development now to increase the safety of launch, spacecraft, in-space operations and crewed space missions. Reducing the Risks of Space is underwritten by the Space Shuttle Children's Trust Fund.
The campaign begins today with a podcast interview with K&L Gates' Elizabeth Evans and Kathryn Lueders, formerly of NASA (now retired) and a member of the Space & Satellite Hall of Fame. SSPI will feature videos on the challenges of dealing with space debris and what the space and satellite industry is working on to make space travel safer in the future. New content will be published weekly at www.sspi.org/cpages/reducing-the-risks-of-space.
"Two centuries of industrial development have left humanity with the challenge of limiting and reversing climate change," said executive director Robert Bell. "Fifty years of launch and orbital operations have done the same for Earth orbit, cluttering it with an estimated 100 million pieces of space debris. Launch and space operations were already high-risk, as the Challenger disaster showed us in 1986. This new campaign will dramatically demonstrate that humanity's future in space depends on limiting those risks and increasing the safety and sustainability of space missions."

About Reducing the Risks of Space
Not so many years ago, launch and deployment were the biggest risks of putting technology or people into space. Today, space is growing crowded with multiple orbits, massive growth in the number of satellites, and new business ventures from private space stations and fuel depots to in-orbit servicing and operations. They join orbital planes already home to 23,000 pieces of debris larger than a softball, moving at speeds of up to 17,500 mph.
A sustainable space environment for machines and people is a basic condition for the space economy. It is how we will maintain access to orbit and achieve the commercial success the industry dreams of. Until now, the world has relied on treaties and cooperation among business and government to keep space safe. As the value of space grows, that approach is fast running out of runway.
Reducing the Risks of Space will explore policy, law, technology and operations in development now to manage the challenging space environment of the future. It will ask if enough is being done and, if not, how we can motivate greater urgency in finding solutions. The campaign will also look at business models and technology advances that hold the promise of heading off the dreaded Kessler Syndrome that could make low Earth orbit unusable for decades.
You can learn more about the Reducing the Risks of Space campaign on SSPI's website.

About SSPI
Founded in 1983, Space & Satellite Professionals International (www.sspi.org) is on a mission to make the space and satellite industry one of the world's best at attracting and engaging the talent that powers innovation. The space and satellite business has never seen a time of greater experimentation and disruption than we see today. Investment is the fuel for transformation, but people are the engine. SSPI helps the industry attract, develop and retain the talented people it needs to keep the engine turning. People who connect through high-profile events and gain recognition from prestigious awards. People who rely on SSPI for a broader understanding of the industry as much as for individual networking and career mentoring. From young people seeking a career path to industry veterans with wisdom to share, SSPI connects them all.
Talent, investment and opportunity flow to industries that make a difference. SSPI is the only organization that also promotes the enormous value of space and satellite through dramatic stories of our technologies and companies making a better world. Those stories overturn misconceptions about the industry that hold it back. They inspire our people and attract new ones to the industry. They help justify investment and give new customers a reason to care about our services and products. Through the stories we tell and the people we serve, SSPI inspires the growth of the $1 trillion space economy of the future.

For More Information
Victoria Krisman
Communications Manager
Space & Satellite Professionals International
vkrisman@sspi.org
---