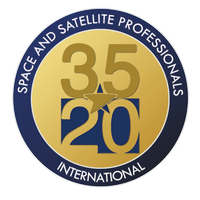 (September 12, 2023 – New York City) – The Space & Satellite Professionals International (SSPI) today announced the sixth annual "20 Under 35" list of outstanding young space and satellite professionals age 35 and under. The honorees will be celebrated at SSPI's 18th annual Future Leaders Celebration on October 18 during Silicon Valley Space Week, produced by SatNews publishers.
SSPI's annual list of the "20 Under 35" features 20 employees and entrepreneurs to keep your eye on in coming years. They were selected from nominations submitted by the membership and evaluated by a panel of judges made up of many of the Mentors supporting SSPI's student outreach programs as well as Members of the Space & Satellite Hall of Fame. This year, SSPI received a record number of nominations for the "20 Under 35" list. At the Future Leaders Celebration, the three top-ranked members of the 20 Under 35 will be named as this year's Promise Award winners.
"This year marks the sixth cohort of '20 Under 35' honorees identified by our independent judges and members of the Space & Satellite Hall of Fame," said executive director Robert Bell. "That is 120 of the smartest, most dedicated and creative individuals in our global business, many of whom have already made a name for themselves and influenced the direction of the industry. I can't wait to help introduce them to our audience at the Future Leaders Celebration on October 18."
The "20 Under 35" of 2023:
Aysha Alharam

, Acting Head of Satellite Design and Development, National Space Science Agency, Bahrain

Andrew Chau

, Space Mission Program Manager, Millennium Space (A Boeing Company)

Amy Comeau

, Lead, Office of the Chief Engineer, Boeing

Laura Cummings

, Regulatory Affairs Counsel, Astroscale U.S.

Bhavi Jagatia

, Astrodynamics Engineer, Planet

Christian Keil

, Chief of Staff, Astranis

Srikanth Kodeboyina

, Founder & CEO, Blue Eye Soft Corp dba Blue Space

Dr. Justyna Kosianka

, Technical Product Owner, Ursa Space

Neha Lin

, Space Systems Engineer, Iridium

Dr. Zhe Liu

, Senior Materials & Process Engineer, Maxar

Armando Loli

, Project Engineer, Boeing

Asad Malik

, Founder, Chairman & CEO, iRocket

Julie Newman

, Program Chief Engineer, Boeing

Onyinye Nwankwo

, PhD Candidate in Atmospheric and Space Sciences, University of Michigan, Ann Arbor

Klaus Okkelberg

, Electrical Design & Analysis Engineer, Boeing

Matej Poliacek

, ISS Flight Operations Engineer & STRATOS Flight Control Team Deputy Lead, DLR – German Aerospace Centre

Sapna Rao

, Senior Systems Engineer, Lockheed Martin

Alix Rousseliere

, Strategy Consultant for Satcom, Euroconsult

Glory Sikka

, Technical Program Manager, Maxar

Kenneth Smith

, Risk Manager and Project Engineer, The Aerospace Corporation
Full profiles of the "20 Under 35" will be available shortly at www.20under35.com.

About SSPI
Founded in 1983, Space & Satellite Professionals International (www.sspi.org) is on a mission to make the space and satellite industry one of the world's best at attracting and engaging the talent that powers innovation. The space and satellite business has never seen a time of greater experimentation and disruption than we see today. Investment is the fuel for transformation, but people are the engine. SSPI helps the industry attract, develop and retain the talented people it needs to keep the engine turning. People who connect through high-profile events and gain recognition from prestigious awards. People who rely on SSPI for a broader understanding of the industry as much as for individual networking and career mentoring. From young people seeking a career path to industry veterans with wisdom to share, SSPI connects them all.
Talent, investment and opportunity flow to industries that make a difference. SSPI is the only organization that also promotes the enormous value of space and satellite through dramatic stories of our technologies and companies making a better world. Those stories overturn misconceptions about the industry that hold it back. They inspire our people and attract new ones to the industry. They help justify investment and give new customers a reason to care about our services and products. Through the stories we tell and the people we serve, SSPI inspires the growth of the $1 trillion space economy of the future.

For More Information
Victoria Krisman
Communications Manager
Space & Satellite Professionals International
vkrisman@sspi.org
---