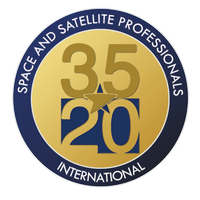 (September 8, 2022 – New York City) – The Space & Satellite Professionals International (SSPI) today announced the fifth annual "20 Under 35" list of outstanding young space and satellite professionals age 35 and under. The honorees will be celebrated at SSPI's 17th annual Future Leaders Celebration on October 12 during Silicon Valley Space Week, produced by SatNews publishers.
SSPI's annual list of the "20 Under 35" features 20 employees and entrepreneurs to keep your eye on in coming years. They were selected from nominations submitted by the membership and evaluated by a panel of judges made up of many of the Mentors supporting SSPI's student outreach programs. At the Future Leaders Celebration, the three top-ranked members of the 20 Under 35 will be named as this year's Promise Award winners.
"This is the most global group of honorees we have seen in five years of the 20 Under 35 program, with executives and entrepreneurs from seven nations," said executive director Robert Bell. "They work in satellite fleet operations, spacecraft manufacturing, satellite service delivery, meteorology, testing, robotics, space medicine, and the cutting edge of research into the systems of the future. They are people we should all get to know if we can – because we may be working for them someday."

The 20 Under 35 of 2022:
Sabrina Alam

, Senior Specialist, Social & Environmental Impact, SES

Charis Angeli

, Satellite Controller, Hellas Sat

Dr. Olivia Borgue

, Postdoctoral Research Associate, Interdisciplinary Centre of Security, Reliability & Trust, University of Luxembourg

Kevin Burville

, Systems Engineer, MDA

Chiara Cocchiara

, Systems Operations Engineer, EUMETSAT

Donya Naz Divsaler

, Co-Founder & CEO, Caidin Biotechnologies

Joakim Espeland

, CEO, QuadSAT

Federico Giusto

, Space Systems Engineer, ispace

Robert Hawkins

, Modeling and Simulation Engineer, Boeing

Trina Jefferson

, Systems Engineer, Ball Aerospace

Ryan Jeffrey

, Principal Satellite Engineer, Sidus Space

Saroj Kumar

, Mission Designer for Advanced Propulsion Systems, Propulsion Research Center, University of Alabama in Huntsville

Dr. Vivek Muralidharan

, Research Associate, University of Luxembourg

Mariam Naseem

, PhD student, Planetary Geology, University of Maryland, College Park (former: Canadian Space Agency)

Angga Risnando

, Product & Technology Incubation, Telkomsat

Alvaro Sanchez

, CEO, Integrasys

James Spicer

, Principal Aerospace Engineer, SpaceLink

Jenna Tiwana

, European Business Development & Partnerships Officer, ispace

Nathan Tat

, Science and Space Financial Analyst, KBR

Dr. Anthony Yuen

, Chair, Space Generation Advisory Council
Full profiles of the 20 Under 35 will be available shortly at www.20under35.com.

About SSPI
Founded in 1983, Space & Satellite Professionals International (www.sspi.org) is on a mission to make the space and satellite industry one of the world's best at attracting and engaging the talent that powers innovation. The space and satellite business has never seen a time of greater experimentation and disruption than we see today. Investment is the fuel for transformation, but people are the engine. SSPI helps the industry attract, develop and retain the talented people it needs to keep the engine turning. People who connect through high-profile events and gain recognition from prestigious awards. People who rely on SSPI for a broader understanding of the industry as much as for individual networking and career mentoring. From young people seeking a career path to industry veterans with wisdom to share, SSPI connects them all.
Talent, investment and opportunity flow to industries that make a difference. SSPI is the only organization that also promotes the enormous value of space and satellite through dramatic stories of our technologies and companies making a better world. Those stories overturn misconceptions about the industry that hold it back. They inspire our people and attract new ones to the industry. They help justify investment and give new customers a reason to care about our services and products. Through the stories we tell and the people we serve, SSPI inspires the growth of the $1 trillion space economy of the future.

For More Information
Victoria Krisman
Communications Manager
Space & Satellite Professionals International
vkrisman@sspi.org
---