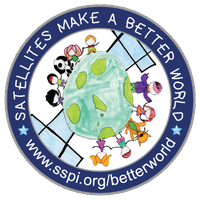 (June 13, 2023 – New York City) – Space & Satellite Professionals International (SSPI) today released Keeping Open the Road to Space, its newest video in the Better Satellite World campaign. It explores the growing threat that space debris poses to all future space operations and what steps governments and companies around the world are taking to make sure the road to space stays open for the future. Keeping Open the Road to Space is made possible by funding from the Space Shuttle Children's Trust Fund.
"As rocket launches become a monthly, even weekly thing, it's easy to take success in space for granted," said executive director Robert Bell. "But space is a dangerous place, starting with that ride into orbit on a column of fire, for people and machines. We have made space a place to do business thanks for a half-century of engineering experience. That same half-century has also filled LEO with the entirely human-made danger of space debris. The good news is that what people have made, people can fix, as our video makes clear."
You can watch the video on SSPI's website and on Youtube. Keeping Open the Road to Space is part of Reducing the Risks of Space, SSPI's latest campaign that explores policy, law, technology and operations in development now to manage the challenging space environment of the future.

Inside the Story
For the entire half-century length of the space age, we have been littering the road to space with rocket engines, failed satellites and broken equipment. Earth orbit holds almost 100 million pieces of debris moving at blazing speeds. A piece of junk no larger than a softball can hit with the force of a bomb. When things collide in orbit, they make more debris. In just one incident, a failed Russian spacecraft smashed into a commercial satellite, and in an instant, thousands of pieces of junk were added to the sky. And we keep launching satellites by the hundreds and thousands. The more we launch, the closer comes the day when Earth orbit could become a minefield that neither people nor machines dare enter.
To combat the growing problem of space debris, government and industry are making new rules for spacecraft to stop adding to the threat. Companies and space agencies are testing ways to get rid of the most dangerous debris, a challenge roughly as difficult as catching a softball moving at 20 times the speed of sound. Governments and industry are also building better radar systems to track debris. Automatic warnings will give operators time to move spacecraft out of the way as the International Space Station does today. We are designing for a future of constant maneuvering in orbit that will test the ingenuity of engineers like nothing before.

About SSPI
Founded in 1983, Space & Satellite Professionals International (www.sspi.org) is on a mission to make the space and satellite industry one of the world's best at attracting and engaging the talent that powers innovation. The space and satellite business has never seen a time of greater experimentation and disruption than we see today. Investment is the fuel for transformation, but people are the engine. SSPI helps the industry attract, develop and retain the talented people it needs to keep the engine turning. People who connect through high-profile events and gain recognition from prestigious awards. People who rely on SSPI for a broader understanding of the industry as much as for individual networking and career mentoring. From young people seeking a career path to industry veterans with wisdom to share, SSPI connects them all.
Talent, investment and opportunity flow to industries that make a difference. SSPI is the only organization that also promotes the enormous value of space and satellite through dramatic stories of our technologies and companies making a better world. Those stories overturn misconceptions about the industry that hold it back. They inspire our people and attract new ones to the industry. They help justify investment and give new customers a reason to care about our services and products. Through the stories we tell and the people we serve, SSPI inspires the growth of the $1 trillion space economy of the future.

For More Information
Victoria Krisman
Communications Manager
Space & Satellite Professionals International
vkrisman@sspi.org
---