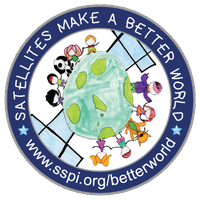 (January 12, 2023 – New York City) – Space & Satellite Professionals International (SSPI) today released Smarter Mining, its newest video in the Better Satellite World campaign. It tells the story of how mining companies around the world are improving operations, worker safety and environmental impact through satellite connectivity for the Internet of Things. Smarter Mining is made possible by funding from Speedcast.
Modern life depends on a massive stream of minerals that go into everything from buildings and bridges to the phone in your pocket. Keeping the minerals moving takes never-ending attention to safety, efficiency and productivity. The mining industry is investing billions in making mines smarter with Internet of Things and asset tracking technology. Today's mines use automated drills and self-driving trucks. Trackers monitor their location and operation. Automatic systems monitor air quality in tunnels and smart video surveillance can warn of dangerous conditions in advance. In the smart and connected mine, managers can see and understand the challenges their miners face. IoT systems share data with experts far away, who can advise on tough problems. Automated drills and trucks can work night and day while keeping people out of harm's way.
Most mines operate in remote places, far from communication networks. That's why miners around the world turn to satellite companies like Speedcast. Speedcast brings advanced connectivity to the world's most out-of-the-way places. That means building networks in tunnels, across vast open pits, in offices and crew quarters – and connecting them to satellite, because it is the only kind of communication that goes everywhere on earth.
"In today's smart and connected mine," said executive director Robert Bell, "satellite-delivered IoT is saving lives, automating operations and improving how mines manage their waste. Our video tells the story of how satellite brings this advanced information technology to the most out-of-the-way places on Earth."
You can watch Smarter Mining on SSPI's website and on Youtube.

About SSPI
Founded in 1983, Space & Satellite Professionals International (www.sspi.org) is on a mission to make the space and satellite industry one of the world's best at attracting and engaging the talent that powers innovation. The space and satellite business has never seen a time of greater experimentation and disruption than we see today. Investment is the fuel for transformation, but people are the engine. SSPI helps the industry attract, develop and retain the talented people it needs to keep the engine turning. People who connect through high-profile events and gain recognition from prestigious awards. People who rely on SSPI for a broader understanding of the industry as much as for individual networking and career mentoring. From young people seeking a career path to industry veterans with wisdom to share, SSPI connects them all.
Talent, investment and opportunity flow to industries that make a difference. SSPI is the only organization that also promotes the enormous value of space and satellite through dramatic stories of our technologies and companies making a better world. Those stories overturn misconceptions about the industry that hold it back. They inspire our people and attract new ones to the industry. They help justify investment and give new customers a reason to care about our services and products. Through the stories we tell and the people we serve, SSPI inspires the growth of the $1 trillion space economy of the future.

For More Information
Victoria Krisman
Communications Manager
Space & Satellite Professionals International
vkrisman@sspi.org
---