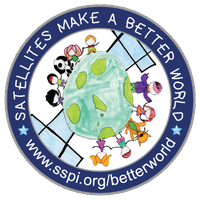 (1 November 2022 – New York City & London) – Space & Satellite Professionals International (SSPI) announced today the recipients of the industry's eighth annual Better Satellite World Awards. The awards honour established companies along with disruptive innovators who make the world more prosperous, healthier, better-educated, sustainable and inclusive. An international jury selected ASTERRA's underground potable water leak detection technology, Spire Global's use of weather and Earth Intelligence data to predict and mitigate environmental disasters and Viasat's provisioning of high-speed connectivity to refugees of the war in Ukraine as recipients of this year's awards. They will be honoured at the Better Satellite World Awards Dinner on 5 December in London along with the SSPI UK's chapter Personality of the Year.
The selection was made by an international jury consisting of a broad cross-section of Industry thought leaders and distinguished professionals. This year, the jury elected to extend an honourable mention to Iridium Communications and the Smithsonian Institute's Movement of Life Project for advancing understanding of how all living things move across a changing landscape.
"Each year we watch with awe as the commercial space and satellite community continues to play a greater role in addressing the major challenges of the human community in more significant ways," said SSPI's Director of Innovation and Host of The Better Satellite World podcast Louis Zacharilla. "We look forward to being back together in London for the celebration of these remarkable companies."
The Better Satellite World Awards Celebration, a festive networking event and dinner will be held at Whitehall Place on 5 December. It is produced by SSPI and its UK and Isle of Man Chapters. The UK Chapter is chaired by Betty Azzarelli, CEO & Founder, AB5 Consulting.

The 2022 Better Satellite World Award Recipients:

ASTERRA
Potable water systems around the world suffer an average of 15-20% leakage rate, resulting in wasted energy usage, contamination or, in the worst cases, critically low availability of drinking water in already stressed areas. ASTERRA (formerly Utilis) developed and patented a new technology that uses reflected signals from L-Band polarimetric synthetic aperture radar (PolSAR) to detect potable water underground up to 2 meters. Using ASTERRA's proprietary algorithm, potable water can be distinguished from naturally occurring or salt/brackish water. The technology can penetrate foliage and asphalt roadways, allowing detection of water leakage from utility pipes. Once the leaks are identified, field leak inspectors can pinpoint where to search for the source of the problem to repair the damage quickly and with the least possible waste.
ASTERRA's new technology, called Recover, is a low-cost alternative for finding potable water leaks that is available even to small and rural water agencies, where they frequently had few options. The company works with small and rural utilities to provide custom packages to meet their needs, as these organizations often do not have GIS programs or a formal leak detection program.
Since its inception, ASTERRA's technology has helped utilities worldwide save over 210,000 million gallons of water, 527,000 MWH of energy and 135,000 metric tons of CO2 emissions by finding and repairing leaks more quickly and efficiently. It does so by identifying leaks at a 40% lower cost than traditional point-to-point inspection methods and a 90% lower cost than fixed base acoustic leak detection systems. The technology is based on a remote pre-location inspection program, so it can be deployed anywhere in the world without requiring capital investment. ASTERRA's technology also identifies leaks on the customer side of the meter, resulting in direct benefits for customers. Based on the technology's success, the company developed a system to detect wastewater leakage and exfiltration from sewer lines. For its achievement, ASTERRA received the 2021 American Water Works Association Innovation Award.

Spire Global
Climate change continues to be a major and developing threat around the world. Spire Global has responded by using space-based data and analytics, provided by its constellation of over 100 multipurpose satellites, to help governments and the private sector monitor, adapt to and reverse the effects of climate change in several ways. Spire's Earth Intelligence data provides crucial information on environmental factors, including sea ice levels and soil moisture, which can be used in climate change research and development of solutions. For example, the company's data is currently being used to monitor soil moisture in Scotland's peatlands. The peatlands cover 20% of the country and are one of the most efficient carbon stores in the world; they currently contain roughly 140 years of the nation's total current greenhouse gas emissions. When the bogs are damaged, however, they become carbon emitters instead. Restoring the peatlands is crucial to prevent such emissions, and Scotland's Rural College (SRUC) is using Spire's data to map wetlands and monitor their dynamics, providing necessary information on which areas most require restoration and protection.
In addition to Earth Intelligence data, Spire is able to provide advanced weather predictions in a constantly changing climate using weather data collected by its satellite constellation. Spire's weather data and forecasts provide organizations with real-time information to prepare for extreme weather conditions such as wildfires, storms and cyclones and mitigate their effects as much as possible. For example, sectors such as agriculture and renewable energy generators can increase efficiency and reduce operational costs by using Spire's data and forecasts to prepare for and mitigate disruptions caused by extreme weather. Spire also provides its data to maritime and aviation customers to help with route optimization and emissions monitoring. This lets these customers optimize fuel efficiency, lower their carbon footprint and keep their crews safe from hazardous weather conditions. For its collection of Automatic Identification System (AIS) data to track vessels for maritime customers, Spire Global was named the Data Solution of the Year for Transportation in the 2021 Data Breakthrough Awards Program.

Viasat
When the war in Ukraine began and the immediate resulting refugee crisis occurred, Viasat partnered with the regional government of Košice, Slovakia to provide free high-speed internet access to Ukrainian refugee sites across Eastern Slovakia. Viasat utilized its satellite-enabled Community Wi-Fi system to connect the areas most in need of connectivity. Once these areas of need were identified by the Košice regional government, Viasat's Community Wi-Fi systems were installed in a matter of days to provide critical connectivity available to thousands of refugees.
Viasat focuses on unlocking the opportunities provided by internet connectivity for everyone, wherever they are, through its network. During the COVID-19 pandemic, internet played a crucial role in enabling people and businesses to continue daily tasks and operations. Viasat provided a reliable connection to enable many functions including staying in touch with loved ones, working-from-home, selling products, managing projects, processing payments and more. Satellite connectivity provided seamless access when businesses needed it most, particularly when their ground-based primary connections suffered outages due to strain. Viasat provides a full spectrum of home, business, enterprise, and mobility services offering high-speed internet connections virtually anywhere, enabling people across a variety of landscapes to connect with the people and services they need, whenever and wherever they need them.

About the Better Satellite World Campaign
Working with partner associations and supporting companies around the world, Space & Satellite Professionals International's Better Satellite World campaign (www.bettersatelliteworld.com) is changing the global conversation about satellites and their influence on the economy, business and societies everywhere. The campaign was launched in Washington, DC during SATELLITE 2015. It has since become a cornerstone and a viral effort that is successfully communicating the incredible power of satellites for human good.
SSPI has published a series of stories and videos that dramatize the immense contributions of the "invisible infrastructure" of satellite to life on Earth, which are widely shared by individuals, companies and the media. The Better Satellite World campaign is available for repurposing by any organization or person who wishes to use the content to help promote the industry at www.bettersatelliteworld.com and through the Twitter hashtag #bettersatelliteworld.

About SSPI
Founded in 1983, Space & Satellite Professionals International (www.sspi.org) is on a mission to make the space and satellite industry one of the world's best at attracting and engaging the talent that powers innovation. The space and satellite business has never seen a time of greater experimentation and disruption than we see today. Investment is the fuel for transformation, but people are the engine. SSPI helps the industry attract, develop and retain the talented people it needs to keep the engine turning. People who connect through high-profile events and gain recognition from prestigious awards. People who rely on SSPI for a broader understanding of the industry as much as for individual networking and career mentoring. From young people seeking a career path to industry veterans with wisdom to share, SSPI connects them all.
Talent, investment and opportunity flow to industries that make a difference. SSPI is the only organization that also promotes the enormous value of space and satellite through dramatic stories of our technologies and companies making a better world. Those stories overturn misconceptions about the industry that hold it back. They inspire our people and attract new ones to the industry. They help justify investment and give new customers a reason to care about our services and products. Through the stories we tell and the people we serve, SSPI inspires the growth of the $1 trillion space economy of the future.

For More Information
Victoria Krisman
Communications Manager
Space & Satellite Professionals International
vkrisman@sspi.org
---