Support SSPI... and invest in a stronger future for the industry
SSPI works to attract the world's best and brightest talent, offers enrichment opportunities that help retain that talent, and honors the individuals and organizations that set examples of innovation for all to follow.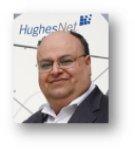 "SSPI is the professional society that represents the whole satellite industry, from spacecraft manufacturing and launch to fleet operators and service providers, not to mention the end-users of our services. Hughes supports the Society because, by celebrating innovation, honoring professional achievement and helping us learn from each other, SSPI keeps us focused on achieving the excellence that customers depend on." - Pradman Kaul, Chairman & CEO, Hughes

"Satellite is a global business but exists in many separate centers of excellence around the world. SSPI is one of the best ways to connect those centers and create a global, professional network to power collaboration, innovation and growth." - Serge van Herck, CEO, Newtec

"FaceBook, Google, Amazon – these are companies built on innovation and talent.  SSPI is the only organization in our industry focused on helping satellite businesses win their fair share of the global tech talent pool." - David Myers, CEO, DataPath
Ready for launch?
Do you have questions about becoming a supporter of SSPI? Click on the links on this page to download our sponsorship prospectus and commitment form. For more information or personalized assistance, contact SSPI's Membership Director, Tamara Bond-Williams. Tamara can be reached by email at tbond-williams@sspi.org or by phone at 212-809-5199 x103.