In December 2004, one of the worst natural disasters in the last 100 years struck the Indian Ocean region. A tsunami, generated by an undersea earthquake, swept across coastal areas, killing hundreds of thousands and destroying thousands of homes in Indonesia, India, Malaysia, Thailand and other countries.
Government agencies and NGOs leaped into action to bring food, clean water, medical help, clothing and building materials to the affected region. The devastation was so severe, however, that only a few places were able to receive cargo and personnel by air and ship. Among these was Banda Aceh, Indonesia, which rapidly became a logistics hub for the region.
The Burning Need for Communications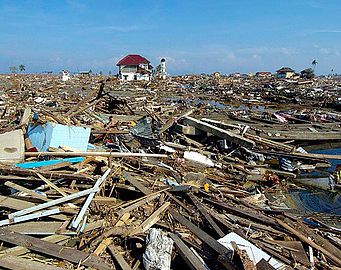 Logistics on this scale requires more than ships, planes and people to function – it needs robust communications to coordinate the vast effort. But the region's communications networks had been as completely decimated by the giant waves as everything else.    
Fortunately, a company called Emerging Markets Communications was already operating in-country to support the UN World Food Programme. Asked to respond as fast as possible to the emergency, EMC swung into action.  
It dispatched satellite hardware to Banda Aceh, calling on its connections with the UN to help overcome hurdles. Priority for incoming flights was given to relief supplies, not electronics, but EMC successfully made the case that the ability to coordinate relief work was equally important. The company also moved staff from Nairobi to Indonesia to help with the installation.
The standard lead time to create a satellite facility is 60 to 90 days. From the first telephone call to the installation of the link, the process took just three weeks. "Actually the slowest part of the process," says David John, EMC's European Business Manager, "was sorting out local telephone connections in Geneva."
Routing Billions in Recovery Aid
In the tsunami-affected area, relief goods for such international and national donors as the Red Cross, Red Crescent, UN agencies, national and international NGOs and foreign military forces began flowing in a coordinated stream through Banda Aceh. Countries and corporations eventually pledged a total of US$4 billion in recovery aid. The Red Cross alone supported the construction of 4,600 homes, provided clean water sources to 196,000 people, and offered temporary livelihood assistance to more than 88,000 people affected by the disaster. UNICEF built or rehabilitated 107 schools, constructed 59 health facilities and 28 child care centers, and developed water facilities for 700,00 people.
Communications played a major role in coordinating the effective delivery of all that assistance. A relief agency executive inter-viewed at the time said, "For the first time, the emergency site had reliable communication, which made a huge difference to our operations. The solution greatly improved our ability to operate and to deliver the assistance to our beneficiaries that they needed so much."