Raven Moreland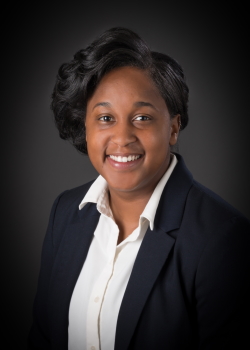 Spacecraft Power Systems Engineer, Ball Aerospace
Raven joined Ball Aerospace in early 2020 as a Systems Engineer and currently serves as lead for the Electrical Power Distribution Subsystem (EPDS) on NASA's SPHEREx program, which will conduct the first near-infrared all-sky spectral survey to study the cosmic origins of the universe and galaxies. Her contributions to the EPDS on the SPHEREx program have already proven invaluable in her 14 months spent on the project. In her first 6 months on the project, She was responsible for researching and procuring the solar array technology that will power the SPHEREx spacecraft and quickly realized that the original design exceeded the system's mass allocation. Raven discovered a novel technology that is more efficient, smaller, lighter and more powerful for less cost than the established baseline, thereby getting the project back on track seamlessly and with added benefits. She consistently provides valuable feedback for deliverables, researches options for spacecraft components and contributes design ideas.
Before joining Ball Aerospace, Raven served as the Lead Operations and Ground System Design Engineer for General Atomics, where she led operations on the Orbital Test Bed 1 (OTB-1) mission, the first truly commercial all hosting satellite. She was responsible for commissioning of the spacecraft, including anomaly resolution, operations logistics and user manual development, and she went on to lead and define the ground system fault detection, isolation and recovery philosophy for the OTB-2 and OTB-3 missions. Raven served as the only Operations Engineer for the OTB-1 project, wrote the satellite's anomaly recovery procedures and was on call to solve them on the spot during and after launch. She also served as a Satellite Systems Engineer at Orbital ATK, where she performed mission operations development for geostationary (GEO) satellites and helped direct the GovSat-1 and Al Yah 3 missions. Raven spent her first year of her professional career at Intelsat and served as the Lead Payload Engineer for the Intelsat IS-35e next generation digital payload satellite. While at Intelsat, she created a new, automated capability for in-orbit testing (IOT). While performing in-orbit testing for a newly launched satellite, her payload team quickly found the testing phases to be intense, monotonous and prone to human error due to requiring the team to manually enter testing results into the database. She wrote a script to automate IOT in response so that team members could see which tests were running based on the configurations set up and which also logged the relevant test result data into a database without needing manual input. For her accomplishments throughout the space sector, Raven has received numerous awards including a 2021 Black Engineer of the Year Awards (BEYA) Modern-Day Technology Leader Award, an Intelsat Spot Beam Award, an Orbital ATK Spot Award and the General Atomics Most Valuable Professional Award.
Outside of official work hours, Raven joined two employee resource groups at Ball Aerospace to serve as an ally for other African Americans and members of the LGBTQIA+ community. She recently appeared on a roundtable discussion on intersectionality within Pride with the Pride Ball Network and serves on the events committee of the African Diaspora Network at Ball Aerospace. Raven is also an active volunteer for the High Line Canal Conservancy of Denver, where she works to maintain the accessibility and cleanliness of the city's 71-mile canal. She has also served as a mentor at local high schools to help students interested in STEM complete college applications, obtain career information, and receive scholarships.