Rohit Iyer Seshadri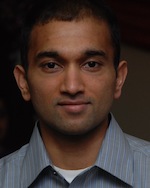 Senior Member, Technical Staff, Hughes Network Systems
In four short years, Dr. Rohit Iyer Seshadri has made his mark at Hughes, the world's leading provider of satellite broadband for home and office, and of managed network solutions for business and government.  Bearing a freshly-minted Ph.D., he was hired as a member of the Advanced Development Group in the company's respected engineering department, and was put to work on Jupiter, Hughes' next-generation Ka-band system. He helped develop an extremely complex and accurate performance prediction model for the system, and went on to make major contributions in 16-APSK modulation equalization techniques, which were incorporated into the design.  

But at the same time, he became interested in the evolution of standards for optimizing bandwidth, which had been the subject of his doctoral dissertation.  Focusing on Continuous Phase Modulation (CPM), he investigated ways to improve its efficiency and performance, both on the job and in his spare time.  He was not alone in his interest.  The DVB Return Communications Systems (DVB-RCS) group in Europe was also targeting CPM as a means to reduce the cost of terminals.  Rohit formulated an approach that outperformed other alternatives.  He represented Hughes and proposed the approach in the DVB standardization meetings and answered all technical questions and concerns raised by the entire committee.  After detailed evaluation, the DVB-RCS group adopted the proposal as part of its 2nd generation standard.  

Of Rohit's work, his manager writes that "he is very eager to take on new challenges, exploring theories and techniques to improve the state of the art.  He follows through on his creative ideas methodically, thoroughly and with vigor.  But he is the quintessential team player who respects the opinions and suggestions of others."  That combination is likely to make him an influence in the industry for years to come.