Joyeeta Chatterjee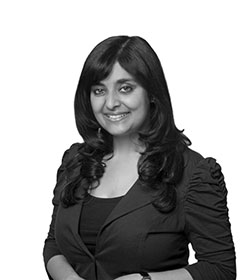 Project Manager, Reed Smith
Joyeeta is currently a member of the aerospace team in the Financial Industry Group at the law firm of Reed Smith, where she advises on corporate transactional matters with a specialty in financing transactions and export-credit based projects. She also formulates business development strategies for the practice group based on analyses of industry trends and market outlook. Joyeeta regularly attends high-level international conferences and industry events, and is an active participant in discussions on industry developments and legal challenges.
Joyeeta has acquired experience throughout the sector working with government agencies, private industry and non-profit organizations. She has assisted policymakers at the Indian Space Research Organization headquarter in Bangalore, and has worked on policy issues relating to international trade in launch services at the Washington D.C. office of Arianespace. She has also contributed considerably to the academic discourse, and was awarded the Diedericks-Verschoor Award for the best scholarly research paper by a young author at the Annual Symposium of the International Institute of Space Law in 2014.
Joyeeta's colleagues and superiors all describe her as a diligent, proactive professional full of keen insights, intellectual creativity, and a deep understanding of the trends and developments in the space and satellite industry. According to Senior Space Business Counsel Del Smith, she has consistently enhanced the business development opportunities and marketing effectiveness of the practice group through her innovative ideas and resourcefulness, and her excellent reputation in the industry has further strengthened Reed Smith's stellar brand value.
In addition to her professional work in the industry, Joyeeta has volunteered much of her time for the Space Generation Advisory Council. Serving in a variety of roles, she was responsible for managerial, operational and liaison activities with members and organisations from diverse geographical and disciplinary backgrounds. She was elected as the Asia-Pacific Regional Coordinator for a two-year term, during which she was responsible for promoting space awareness and outreach activities in the Asia-Pacific region. In 2012, she co-founded the SGAC Space Law and Policy Working Group, which addresses legal and policy issues of the space and satellite industry. In recognition of her contributions, she was awarded the 2011 SGAC Young Leader Award. Joyeeta is also a member of the Workforce Development Young Professionals Programme Committee of the International Astronautical Federation.
Joyeeta has earned her B.A. and LL.B, with first-class honours, from Gujarat National Law University in India. She received a specialized master's degree in aviation and space law from the Institute of Air and Space Law at McGill University in Montreal, where she was an Arsenault fellow and where the Faculty of Law awarded her the N.M. Matte Prize for outstanding performance in space law. She is also an alumnus of the International Space University, and by successfully completing the 2011 Southern Hemisphere Summer Space Program hosted by the University of South Australia in Adelaide.