Nicholas Puschman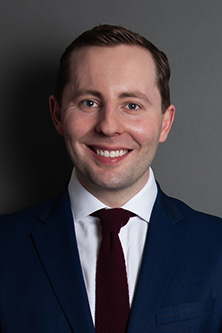 Associate, Bird & Bird LLP
In his career to date, Nicholas has worked in roles that have allowed him to learn and be actively involved in the space sector and advise on the impact of law and regulation on industry decision-making. In his current role as an Associate in the London office of international law firm, Bird & Bird LLP, Nicholas has worked with both commercial and government clients on complex areas of law and regulation, from compliance with satellite and telecoms regulations, assisting in contract negotiations to advising governments on the creation of national space laws. In addition to recently being seconded to a global satellite operator – and gaining an invaluable insight into the needs of the satellite industry from the inside –  Nicholas' legal experience has also included working with organizations in sectors related to space and satellite, including telecoms, aviation, aerospace and defense.
Prior to Bird & Bird, Nicholas worked in a specialist consultancy firm in London, advising space and satellite clients on policy and regulatory matters, including spectrum licensing, the implications of Brexit and export control. Before this, he spent two years in the legal department of the European Space Agency (ESA), at its headquarters in Paris, where he advised primarily on international law matters and was closely involved in advising on key developments such as the impact of national space legislation, space sustainability, resource exploitation and the legal aspects of satellite constellations. Nicholas formed part of the legal team advising ESA's Member States on international relations and was part of the delegation to the United Nations (UNCOPUOS Legal Subcommittee). During his time at ESA, Nicholas served as Executive Secretary of the European Centre for Space Law (ESCL), where he established new multi-disciplinary events such as industry conferences in various European countries and created initiatives for young professionals.
Outside of work, Nicholas is involved in various educational initiatives. He is a mentor to university students and teaches Masters students on international space law and satellite regulation at the University of Strathclyde Law School in Glasgow, UK. He also lectures during the leading European Centre for Space Law (ECSL) Summer Course on Space Law and Policy and has served as a judge for the international university mock trial competition, the Manfred Lachs Space Law Moot Court Competition. In addition, Nicholas sits on the Board of the European Centre for Space Law and is a member of industry associations such as the Satellite Finance Network. In the past, he has spoken or moderated panels at leading conferences such as the International Astronautical Congress and the Space Symposium and enjoys being able to engage with and learn from other professionals from across the space sector during these events.