Meg Eckensen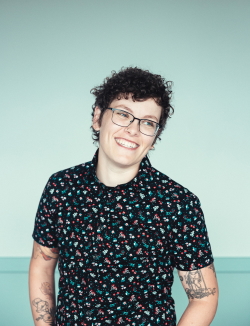 Head of User Experience, Ursa Space Systems
Meg joined Ursa Space Systems in 2018 as an Image Analyst. She quickly rose through the ranks to become Lead UX (User Experience) Designer and finally Head of User Experience. In her current position, Meg acts as a combination of product manager, lead designer and marketing lead, as well as an advisor to the executive leadership team. She oversees the success of company-wide communication processes, providing strong leadership to facilitate a collaborative remote company culture. Meg controls the UX roadmap across all of Ursa Space's product lines and advocates User Experience across engineering, product, sales and marketing to ensure a quality experience for internal and external users. She is keenly interested in group dynamics and team building and brings her deep knowledge of those areas to her peers and superiors throughout the company to build a more efficient and engaging workplace.
Since joining Ursa Space, Meg has served in whatever capacity was needed to see a job done well and achieved much along the way. Ursa Space has the largest Synthetic Aperture Radar (SAR) virtual constellation available to the commercial and public sectors, including a total of over 8.7 million archive images and tasking abilities. To access this massive catalog, the Ursa Space Platform needed a front-end user interface, and Meg served as primary designer and leader of the front-end engineering team for the project. Her team developed and launched VCmap, an internal graphical user interface for the Platform that has since expanded to include the ability to run analytic models against the imagery to produce derived insights. Meg also led the design and development of the Ursa Data Portal, which serves up weekly measurement reports for Ursa Space's Oil Storage product. The Ursa Data Portal also includes an interactive explorer application to allow custom manipulation of oil tank measurements to generate customer reports. When the COVID-19 pandemic began to spread, Meg rapidly configured ESRI dashboards for the COVID Response team as part of the company's Radar Analytics as a Service. These dashboards allowed customers to visualize activity around the globe using data from Ursa Space's virtual constellation, providing insights and answers to those unable to travel or leave their homes.
Outside of her primary role at Ursa Space, Meg helped to coordinate the Rev Ithaca Networking event in 2019, aimed at promoting diversity and inclusion in the tech industry. She also served as a panel member for the "Women in Tech & Entrepreneurship" segment at the event.