Mariam Naseem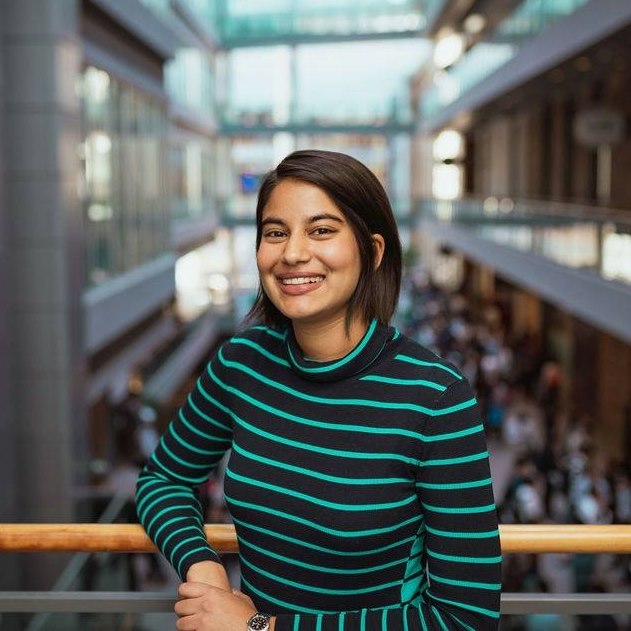 Ph.D. student, Planetary Geology, University of Maryland, College Park (former: Canadian Space Agency)
Mariam Naseem is currently enrolled as a Ph.D. student in Planetary Geology at the University of Maryland, College Park. Her current research, in collaboration with Principal Investigator Dr. Marc Neveu at NASA Goddard, encompasses modeling the ice shell compositions of ocean worlds in our solar system. Mariam's planetary science research resulted in presentations to the international science community and at multiple NASA centers, as well as a forthcoming publication.
Mariam has been an active researcher and commercial space analyst in the industry for many years. Mariam received her Bachelor of Science degree in Electrical Engineering from the University of Texas at Austin and her Master of Business Administration from the Rotman School of Management at the University of Toronto. Before beginning her Ph.D. program, she worked with the Industry Relations team at the Canadian Space Agency (CSA) to support Canadian space companies with business development opportunities. Mariam also provided industry policy recommendations to CSA leadership. As part of her role at CSA, she spearheaded a complex cross-departmental initiative to serve Canadian space startups and SMEs. Mariam conducted an internal review of the resources available at CSA and regional innovation centers, identified key financial and programmatic resources that would meet the needs of emerging space players and designed a multi-pillar program to deliver on those needs. Her work resulted in the signing of the first Memorandum of Understanding (MoU) between federal partners for this CSA initiative.
Prior to her work with CSA, Mariam served as a Research Fellow at the Open Lunar Foundation, where she contributed to an open communication architecture for the Moon by researching the landscape of public and private lunar communication missions and business models for a potential lunar communication network. She previously served as a business and policy researcher at the Arizona State University Space Governance Lab, where she analyzed technologies, policies, and regulations with a focus on emerging space nations. Mariam's contributions include publications on global space governance and the utilization of satellite data by the African region, which she presented at IAC 2021.
Outside of working hours, Mariam volunteers at multiple non-profit organizations. She serves the International Astronautical Federation (IAF) as a member of the Workforce Development-Young Professionals Program Committee and as the Lead Coordinator of the Next Generation Plenary (NGP). As NGP Lead, Mariam has spearheaded multiple IAC panels in Dubai and Paris on topics ranging from social responsibility in space to the utilization of space technologies for climate change mitigation. Mariam also serves on the Space Generation Advisory Council (SGAC) Mentoring Committee and has contributed as a former SGAC E.A.G.L.E Action Team member, as National Point of Contact for Canada and as Membership Liaison for the Space Medicine and Life Sciences Project Group. She is a SEDS-Canada Advisory Board Member supporting the involvement of Canadian post-secondary students in professional development activities within the space sector. Mariam strives to create opportunities for underrepresented minorities, including dedicating time towards mentoring students and young professionals applying for grants and scholarships within the space sector.