Making Leaders Interview: Frank Dibello, President and CEO of Space Florida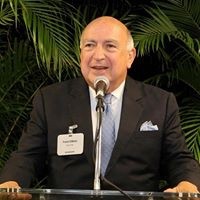 In this Making Leaders interview, we hear from Frank DiBello, President and CEO of Space Florida and one of six inductees to the Space & Satellite Hall of Fame in 2022. Over a 50-year career in the business of space, Frank DiBello has served in a wide variety of roles, all of them dedicated to guiding and strengthening the aerospace industry in America. In his 13 years with Space Florida – an Independent Special District of the State of Florida – he was instrumental in the state's recovery from the retirement of the Shuttle in 2011 and its subsequent rise to even greater heights as the thriving commercial space operations and manufacturing cluster it is today. Frank's leadership and contributions to the advancement of the aerospace industry in Florida has positioned the state as the clear leader in a rapidly transforming aerospace market, which has set an example to many other states, such as New Mexico, Virginia, Alaska, Texas and Georgia to improve their capabilities in the marketplace as well.
Frank began his career in the space industry at KPMG, where he spent more than 20 years guiding the firm's aerospace industry practice. While at KPMG, he founded the firm's Space Industry Practice to focus on new space businesses, including taking satellite programs to Wall Street for financing and developing commercial uses for the International Space Station (ISS). Frank served on President Reagan's Private Sector Survey on Cost Control – also known as the Grace Commission – during this time, where he managed teams reviewing the Departments of the Army, Navy, Air Force, Office of the Secretary of Defense and NASA. For his work on the Grace Commission, he was awarded a Presidential Citation. Frank has been involved in a number of other civic, social and industry volunteer organizations, including the Washington Space Business Roundtable, which he founded. For his work as President of the Board of the USO Metropolitan Washington, he received the Medal for Distinguished Public Service, the Department of Defense's highest civilian honor. Read more about Frank.