Dr. David Whalen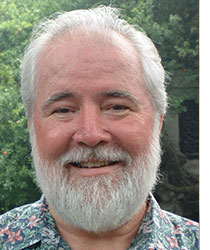 Department of Space Studies, University of North Dakota
As a young boy living in Puerto Rico Dr. Whalen was strongly influenced by the film Forbidden Planet. He thought if he worked hard at school and became proficient at math, that one day he could serve as "astrogator" on a starship. He joined the Navy in 1966 because he felt that flying planes was the next best thing to flying starships.

After service as a Naval Flight Officer, David became an astronomer at the US Naval Observatory, then served as supervisor for celestial mechanics for Western Union's satellite division, engineering specialist for RCA/GE Space, principal engineer for Ford Aerospace, vice president of engineering for Asiasat, and a director of Lockheed Martin and Artel. Throughout his successful career in industry, David devoted himself to nurturing the careers of younger employees. He took interest in people far below his "pay grade" and has, from this, built an extensive legacy of those whose careers and personal lives he has touched. In any place where people working on space-related projects gather, it is not unusual to see individuals coming up to David to thank him for his contribution to their career.

In 2007, David decided to make mentorship his full-time job. He joined the University of North Dakota's Space Studies Department as Associate Professor and Chair. While at UND, Whalen has mentored and taught countless students, and is known as the faculty member who will go the extra mile to help the next generation. Despite being one of the elder statesmen of the Space Studies Department, he is the one who students are most likely to find in his office late into the night or on weekends. Even while putting in long hours to bring his book to completion (and begin work on his next), he never turns students away and will spend hours on end to help them sort out their career aspirations, academic concerns and even personal problems.