Jorge Villarreal Schutz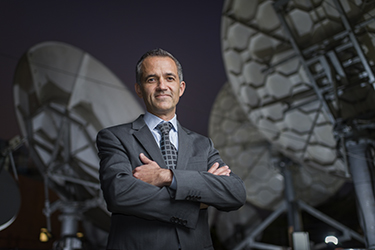 Founder and CEO, Elara Comunicaciones
Jorge Villarreal Schutz is the founder and CEO of Elara Comunicaciones. Since founding the company in 2004, he has led a consistently high-performance team, turning a small company into one of the Best Mexican Companies, recognized by the Deloitte firm, Citibanamex Bank and Tec de Monterrey University. Elara's Mexico City teleport is now recognized worldwide for its excellence through the World Teleport Association's certification program. Thanks to Jorge's leadership and support, Elara integrated in 2015 with the Northgate Capital private equity fund to further support its exponential growth of the last five years.
For the past five years, Jorge has focused Elara's efforts on diminishing the digital divide in rural and unconnected areas of Mexico through collaboration with the Mexican Ministry of Communications and Transport. Elara participated in the 2013 "Red 10K" project, implementing over 3,200 VSATs to serve public schools, medical centers and social support centers in some of the most marginalized areas of Mexico. As of 2017, Jorge and his team have expanded Elara's services to include B2C in addition to B2B, allowing the company to serve individuals in more remote rural areas, some of whom do not even have phone service. Jorge has been recognized for his work in the industry with several awards, including Intelsat "The Faces of Satellite" award and the World Teleport Association's "Teleport Executive of the Year" award in 2014. He was also nominated for 2013 Visionary of the Year at SATCON.
Since founding Elara Comunicaciones thirteen years ago, Jorge has fostered a company culture of openness, self-realization, employee development, and commitment to customer service and experience. He has guided his team through every step of Elara's growth and development, making certain to share his vision with everyone at all levels of the company so that they understand the company's goals and how its decisions are made. Elara provides employees with assistance in finishing their studies to help them come into the industry with the greatest possible expertise and potential for growth.
At Elara, Jorge focuses in particular on giving employees an opportunity to rise within the company before seeking outside help. Elara's current Sales Director, Infrastructure & Operations Director and Special Projects Director all began their careers in minor operative or administrative jobs. Jorge noticed potential in each of them and provided more responsibilities, compensation, and opportunities for them to grow into the leadership positions they occupy today.
Jorge has worked to foster satellite and telecommunications excellence both inside Elara and throughout Mexico and Latin America as a whole. He has been invited to participate in LATSAT, the Latin American Satellite Congress of Communications and Broadcasting for four consecutive years and has been part of a panel of teleport industry experts at the event for the past two years. Jorge has built a strong relationship with Euroconsult, the Ministry of Communications and Transport of Mexico and Telecomm, allowing him to assist in defining the National Satellite Policy of Mexico and help with the development of communications and connectivity throughout the country. He and his team have also been in talks with the Inter-American Association of Telecommunications Companies to collaborate on different initiatives to improve satellite communication services in Latin America.