Luis Ferreira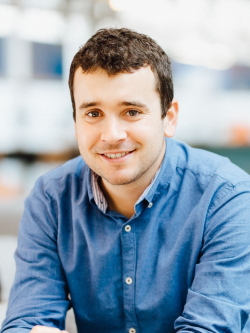 Strategy Manager, Airbus Defence and Space
Luis Ferreira is a Strategist at Airbus driving the development of strategic plans for the decade ahead in the Space and Defence sectors. He strongly believes humanity stands at an inflection point when it comes to the way we harness space, ultimately enabling us to expand beyond planet Earth. Luis is literally engaged in paving the way for what is next in space – the "NextSpace".
Luis joined the Optical Instruments department at Airbus Defence and Space in 2012, after 2 years as an Opto-Electronics Engineer for the European Space Agency (ESA). He quickly distinguished himself in a variety of roles, including Test, Analysis and Design Engineer before taking on the role of Systems Engineer. His responsibilities included successful specification, design, development, testing and delivery of various optical systems for a range of applications. Luis managed the development of sensitive calibration units for the Sentinel-5 remote sensing instrument and led the early design and development of a camera prototype able to detect and characterize orbital debris from space. He was responsible for testing and verifying a compact camera onboard the MASCOT lander that allowed scientists to capture first-hand images from the surface of asteroid Ryugu in 2018.
In his current role as Strategy Manager, Luis pushes the boundaries of what is thought possible and helps defining how Airbus will continue to be a pioneer in the space industry. Luis proposes, supports and promotes the development of comprehensive business solutions for Defence and Space, including make-or-buy strategies. He also drives the development and implementation of an industrial footprint for Airbus, planning strategy for specific geographies, subsidiaries and JV's worldwide. In all his roles at Airbus, from Systems Engineer to Project Manager to his current position of Strategy Manager, Luis has dedicated himself to promoting interest and collaboration in space. He co-developed "The Moon Race" award competition concept with a group of other young employees, which intended to offer a global prize for the best tech ideas to sustain a lunar economy. For that, Luis engaged with top leadership at Airbus receiving buy-in at CEO level, as well as engaged with worldwide agencies and private actors, such as ESA, DLR, NASA, CNSA and AEM, lifting-off the initiative. Although the project did not reach fruition in its original form, it boosted interest in developing a number of more geographically localized lunar tech awards. Last, but not the least, Luis currently leads an internal network at Airbus called "Future of Space" soliciting and organizing ideas from the millennial generation and acting as a sounding board to top management on space matters.
Beyond his work at Airbus, Luis volunteers with a variety of space-based organizations. He co-founded the "Space Brewery" in Munich, a network dedicated to brew new ideas and space passion, while fostering informal exchanges on tech, business models, financing, among others. The network has grown since its inception to include today more than 700 registered members and expanding beyond Munich and the Bavarian region. Luis has been an active member of the International Astronautical Federation's (IAF) Earth Observation Committee since 2017 and has regularly attended IAF spring meetings since 2012. He was awarded IAF's Young Space Leader Award in 2020 for his demonstrated leadership, his professional contributions to aeronautics and dedication to outreach within the space community. Luis has also been an active member of the Space Generation Advisory Council since 2011 and serves as a mentor for the Franco-German space start-up business accelerator Space Founders.