Kelsey Doerksen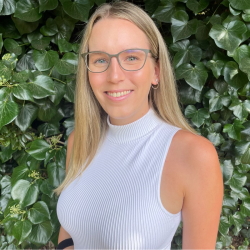 Space Systems Engineer in Satellite Operations, Planet
Kelsey joined Planet in February 2020 after completing a series of internships at the Paris Observatory and NASA Jet Propulsion Lab. In her current role at Planet, she is responsible for identifying, triaging, root causing and resolving satellite anomalies and performing fleet-wide health check-ins for the largest Earth Observation satellite constellation in the world. Kelsey also has extensive experience in using Python to develop tools for autonomous satellite operations and in creating and aggregating performance metrics to provide insight into constellation health and productivity. While working at Planet, Kelsey also serves as a Paris Observatory Researcher and Summer School Lecturer, a position she has held since 2018. She is enrolled to begin her Ph.D. in Autonomous Intelligent Machines and Systems at the University of Oxford in October 2021.
Since joining Planet, Kelsey has proved to be a dependable, creative teammate with extraordinary technical skills and social intelligence that have already produced many accomplishments. She co-led the commissioning campaign for Planet's Flock 4S 48 SuperDove satellite launch in January 2021. Her responsibilities for the program included planning the commissioning campaign in its entirety and aggregating metrics describing the performance of the commissioning campaign and presenting the results at a company-wide meeting. Kelsey also simulated the addition of 48 new satellites to the existing Planet constellation ahead of the launch, created a dashboard to track the status of every satellite as part of the launch and wrote Python code to automate the whole process. In addition to this achievement, she founded the partnership between Planet and the USA and AUS/NZ cohorts of the Frontier Development Lab, which gathers researchers for 8 weeks every year to tackle complex machine learning problems. Kelsey provided satellite imagery to the drought detection and fire mitigation and modelling teams and acted as the official partner representative and domain expert on behalf of Planet.
Outside of work, Kelsey serves as Manager for the Space Generation Congress (SGC) 2021, the Space Generation Advisory Council's (SGAC) annual meeting in support of the United Nations Programme on Space Applications. She volunteers her time with a variety of other organizations, including the Zenith Canada Pathways Foundation and the American Meteorological Society Science and Technological Activities Committee for Space Weather. Kelsey has made presentations at numerous conferences and been published as part of many of those presentations as well. She has also spoken at many outreach events and talks, particularly in the area of STEM outreach for women.