E. James (Jimmy) Strates II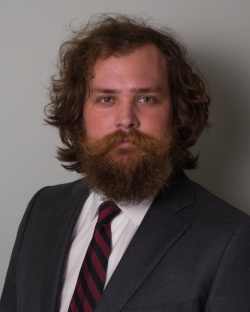 Lead RF Engineer, NXT Communications Corp.
Jimmy joined NXT Communications Corp. (NXTCOMM) in February 2021 after nine years at Georgia Tech Research Institute (GTRI), where he served as a Research Engineer.
As NXTCOMM's Lead RF Engineer, Jimmy is designing active electronically scanned arrays (ESA) for use over satellite that enable markets at scale with greater efficiency and smaller form factor. Jimmy leads a team that is responsible for the design of antennas, RF systems and components, and modeling and optimization of these antennas. NXTCOMM's ESA works with multiple satellite orbits, including Low Earth Orbit (LEO) constellations now coming online and is scalable across satellite mobility use-cases. The first production units will be available in early 2022.
Jimmy progressed from an entry-level engineer at GTRI to the lead involved in all aspects of antenna design. He developed RF technologies from early prototypes to maturity for multiple Department of Defense platforms. He was instrumental in developing the first-ever beamforming, frequency-agile and polarization-agile antenna that remains a leading performer in software-defined antennas. This antenna technology was applied to Assured Position, Navigation and Timing applications and interference mitigation in commercial communications.
In 2018, he and fellow researchers presented their work on optimizing reconfigurable antennas at the 40th Annual Meeting and Symposium of the Antenna Measurement Techniques Association. He holds a patent for this innovation and hopes to explore this area in future development.
Even outside of work hours, Jimmy is passionate about engineering. He was a frequent mentor to junior engineers in the undergraduate and graduate electrical engineering program at Georgia Tech and continues to mentor students and colleagues that he met during his time at Georgia Tech. He especially enjoys helping high school and undergraduate students develop their engineering skills while giving valuable advice on their career paths.