Steve Spengler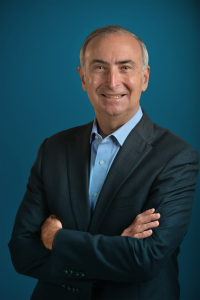 Chief Executive Officer, Intelsat
Steve Spengler's career includes nearly four decades in the space and satellite industry. He has dedicated himself to providing critical communications services to places in the world and people on the move, that other telecommunications technologies cannot reach.
He joined Intelsat in 2003 and has served in a variety of roles, including sales, marketing, strategy and business development. Before becoming CEO in 2015, Steve held the position of chief commercial officer and president. Throughout his time at Intelsat, he has generated new business and forged strategic relationships across the globe in both developed and developing markets.
As CEO, Steve has played a key role in the development of Intelsat's next generation of managed service solutions for an array of network applications. He has been a strong advocate for satellite to forge stronger technological, network and commercial collaboration with the broader TMT sector.  Under his leadership and with an initial $2 billion investment, Intelsat is building the world's first, truly global unified 5G network. The network will be open architecture, multi-orbit and multi-band,  complete with software-defined orchestration of space- and ground- assets, faster-to-deploy software defined satellites, and a 5G mobile core.   Connectivity for all – including remote areas of the world that cannot obtain adequate coverage under current means – offers the potential for everyone to be a part of the world economy and improve their quality of life.
Steve held senior management positions at ViaSat Satellite Networks, Scientific-Atlanta Europe, GTE Spacenet International and GTE Corporation before joining Intelsat. He holds a B.A. in political science from Dickinson College and an M.B.A. from Boston University.
He is a member of the United Nations Broadband Commission for Sustainable Development and serves on the corporate boards of Intelsat SA and the Kymeta Corporation. Steve has testified before the U.S. Senate Committee on Commerce, Science and Transportation regarding the future of the commercial satellite industry. He is also the current chairman of the Global Satellite Operators' Association (GSOA).
Steve has announced his upcoming retirement in 2022, once his successor is named.