George John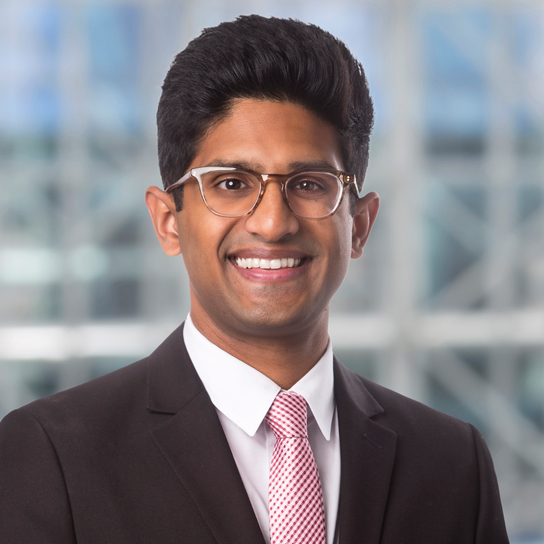 Associate, Hogan Lovells
George's space obsession stemmed from his frustrations with the insufficient connectivity options available to his family in India and the resulting limited interactions. Researching potential solutions revealed some eye-catchers:  nearly three to four billion individuals lack access to basic broadband internet, and perhaps only satellites can meaningfully close this digital divide. What later sealed the deal was his viewing of the Leonardo DiCaprio-narrated Hubble 3D and Whoopi Goldberg's Journey to the Stars. Both stories featured the endless possibilities for space-based technologies bettering lives on Earth.
At Hogan Lovells, George now supports myriad space-related ventures, including helping companies obtain National Oceanic and Atmospheric Administration remote sensing licenses and Federal Communications Commission (FCC) radiofrequency (RF) licenses for broadband and Internet-of-Things connectivity, meteorological and land surface monitoring, hosted payload, and on-orbit satellite servicing solutions. He also advocates before regulatory agencies on matters such as orbital debris mitigation and RF spectrum sharing and negotiates RF spectrum rights internationally. Recently, he participated as one of the youngest credentialed U.S delegates at the month-long International Telecommunication Union World Radiocommunication Conference in Sharm el-Sheikh, Egypt, where he successfully garnered U.S. and international support for increasing RF spectrum availability for small satellite operators deploying spacecraft sized no larger than a wine bottle.
George previously clerked at the FCC's International Bureau Satellite Division, where he assisted with satellite and earth station licensing efforts and rulemakings, and the Federal Aviation Administration's Office of Chief Counsel, where he worked on commercial space launch, reentry, launch site operation, and other aviation regulation projects. He also served as an attorney at O3b and as regulatory and transactional counsel for Spire, where he secured satellite, earth station, and remote sensing licenses and negotiated satellite launch and insurance agreements. Through initiatives at Spire and the Satellite Industry Association (SIA) and Commercial Smallsat Spectrum Management Association, he regularly called for the modernization of commercial space regulatory regimes in FCC, Department of Commerce, and National Telecommunications and Information Administration proceedings and international consultations.
Outside of work, George actively mentors young lawyers and others interested in the space and satellite industry. He has presented at the MIT New Space Age Conference and Federal Communications Bar Association and SIA panels on commercial space policy and regulation and judged legal briefs and oral arguments at the Manfred Lachs Space Law Moot Court Competition.