Dr. Olga Stelmakh-Drescher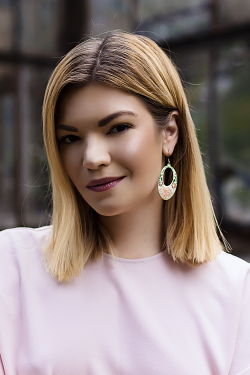 Chief Policy and Government Relations Officer, EXOLAUNCH
Dr. Stelmakh-Drescher is a NewSpace advocate, international space lawyer and space environmentalist, a shaper of space sustainability goals and social responsibility for space activities. In her current position with EXOLAUNCH, she has fostered lasting and fruitful relationships with many in the international space community, leading to business and policy successes across the globe. Dr. Stelmakh-Drescher has worked in the space sector for more than a decade, including 7 years of governmental and parliamentarian engagement in which she acted as a space strategy development and implementation advisor to multiple governments. She holds a Doctorate in International Law specializing in Space Sustainability and Security in addition to 2 Masters of Law degrees and 2 Masters of Business Administration degrees. Additionally, Dr. Stelmakh-Drescher pursued space studies at two of the world's most well-known space academic institutions; she studied space law at the Institute of Space and Telecommunication Law at Paris 11 University and satellite applications at the International Space University. She has also been a Visiting Scholar at the Space Policy Institute, Elliott School of International Affairs at George Washington University, where she worked closely with Prof. Scott Pace and Prof. Dr. Henry Hertzfeld on the issues of Space Traffic Management and international practices in registering satellites, among other topics.  As part of her Postdoctoral degree program at McGill Institute of Air and Space Law, Dr. Stelmakh-Drescher coordinated an International Study on Global Space Governance and was one of its lead drafters. The study examines the drivers of space regulations and standards, key regulatory problems and addresses possible improvements in global space governance. She has also completed a number of professional development and leadership programs and been honored with numerous awards, including the IAF Emerging Space Leader Award, the Secure World Foundation IAC Award, the Space Generation Leadership Award and the IAF Young Space Leader Award. Dr. Stelmakh-Drescher is a member of multiple professional groups, sits on several boards and committees, is a frequent speaker at many international space fora and has published extensively on space-related topics. She is honored to also be a member of the World Economic Forum Global Future Council on Space, a brain trust for space leaders from government, business and civil society, which supports the Forum's mission by bringing together experts bound by a shared mission to discuss the most critical space-related issues, generate insights and analysis and collaborate in shaping space agenda.
In 2020, Dr. Stelmakh-Drescher partnered with Professor Steven Freeland and SpaceWatch.Global to launch a series of trend studies to demonstrate divergent views and perceptions of policy- and decision-makers, thought leaders, influencers and advocates who are directly or indirectly involved in critical space-related issues. These differences have now been published, and once thoroughly analyzed, they are intended to be a starting point for streamlining and aligning world-wide collaborative efforts in areas such as Space Traffic Management and Space Sustainability. In the same year, Dr. Stelmakh-Drescher, in her capacity as a Board Member for the International Institute of Space Law (IISL), conceptualized and launched the world's first digital and living International Space Law Encyclopedia, the IISL Space Law Knowledge Constellation. The platform allows IISL members to share their knowledge of space law, providing access to the expertise of all members in one organized location.
Outside of work, Dr. Stelmakh-Drescher is a frequent pro-bono lecturer on issues of space sustainability and security, NewSpace and global space governance. She has volunteered for many years at the International Institute of Space Law, first as chair of the Election Committee of the Board and now as part of the Public Relations and Social Media Committee. Dr. Stelmakh-Drescher is also a long-standing volunteer with the International Astronautic Federation and the Space Generation Advisory Council, as well as a UN Space4Women Mentor.