Dr. Markus Geiss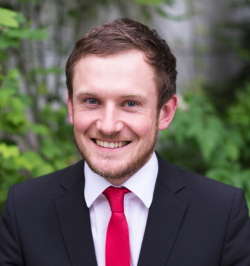 Systems Engineer and Project Manager, OHB System AG
Dr. Markus Geiss joined OHB System AG in Munich, Germany in 2019 as a Development Engineer and Study Manager after 4 years at Airbus Defence and Space and 4 years as a graduate research assistant at the University of Colorado Boulder. He rose quickly through the ranks, becoming Head of the Fine Pointing Structures Working Group in 2020 and achieving his current position of Systems Engineer and Payload Project Manager for a commercial EO constellation in early 2021. Dr. Geiss leads a multi-disciplinary project team at OHB, in addition to managing an international supplier network. He maintains his position as Head of Fine Pointing Structures Working Group as well, a position in which he leads a group of OHB experts in pioneering the application of novel materials and methodologies for the next generation of high-performance space instruments. Dr. Geiss is also one of the core team members of the Young Professionals (YP) organization OHB NextGen, where he is leading the growth and expansion of the YP organization into the entire OHB group. The organization provides opportunities for young professionals to tap into the space community, including networking events and conference visits. Dr. Geiss obtained his Masters and Ph.D. at the University of Colorado Boulder in Aerospace Engineering and he is a graduate of the International Space University (ISU) as well.
While working for OHB, Dr. Geiss is also the 4D Printing Lead and Business Development Manager at DcubeD, a NewSpace startup in Munich. In his current position at DcubeD, he leads the development and application of novel 4D printing technologies for the commercial SmallSat market. Dr. Geiss manages partnerships with various research institutes for the company and leads proposals for early technology development activities. He also serves as Business Development Manager for DcubeD and has successfully established numerous partnerships between the startup and US space companies and organizations. Over his 10 years in the international space sector, Dr. Geiss has also won numerous awards, including the Aerospace Professional Service Award from the University of Colorado Boulder, the AIAA Foundation John Leland Atwood Graduate Award and the AIAA/Aviation Week 20 Twenties Award.
Outside of work, Dr. Geiss is an active member of the Space Generation Advisory Council (SGAC). He has been on the organizing team for several of SGAC's events, including the Space Generation Fusion Forum and SG[Germany[ events. Dr. Geiss is also an active member of the International Astronautical Federation (IAF) Workforce Development – Young Professionals Programme Committee and the Materials and Structures Committee. He co-founded Hopstronautix, a company that promotes excitement and outreach for space via space beer, which is brewed from hops that have been to space. Dr. Geiss also co-founded the "SpaceBrewery" in Munich, a networking platform for the casual exchange of NewSpace ideas, knowledge and best practices that now has over 750 members. He is an active promoter of STEM outreach and has led workshops at kindergartens, lectures at local schools and has organized various activities for the World Space Week.