Courtney Schmitt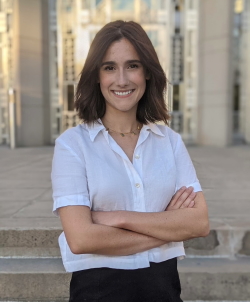 Controls Engineer II, Blue Origin
Courtney is a Controls Engineer at Blue Origin working on the controls and simulation of the BE-3U engine. Courtney joined Blue Origin in 2019 after completing her Masters in Robotics and her Bachelors in Mechanical Engineering at Johns Hopkins University. She immediately excelled in her new role, becoming a key leading contributor for the program. She has been an integral part of every stage of the design process for the BE-3U, from initial design and development, to leading integration tests in the hardware-in-the-loop and valve lab settings, and leading technical design reviews.  In addition to her technical contributions to the BE-3U engine program, Courtney has distinguished herself as a leader on the team, quickly bringing new members up to speed, managing their work and priorities. She also led Engine Simulation Requirements negotiations as the main point of contact with the New Glenn business unit. Courtney's team successfully defined simulation requirements and an Interface Control Document in these negotiations. She has also supported the BE-4 and BE-3PM programs.
Before joining Blue Origin, Courtney completed an internship at Virgin Galactic and worked at an autonomous underwater vehicle startup. While at Johns Hopkins she participated in a variety of research including working with a cosmologist to map the locations of black holes in the universe and working in an autonomous vehicle lab. For her senior capstone project, Courtney worked on a team to design an enclosure for a high-precision optics table. The design will assist NASA funded researchers at the Space Telescope Science Institute to search for life on habitable extrasolar planets around other stars. She was selected to receive the Brooke Owens Fellowship, a competitive fellowship awarded to women pursuing careers in the space industry, in 2018.
Outside of work hours, Courtney volunteered for the Community School of Baltimore during her undergraduate studies as a STEM educator. She designed weekly science lessons and experiments for high school students as part of the program. Courtney was a co-founder and President of the JHU chapter of the Students for the Exploration and Development of Space (SEDS) with the goal of bringing together the space community at JHU across a variety of majors and disciplines. She has frequently mentored students as well as an all-girls First Robotics team from the Museum of Flight in Washington.