Camilo Andrés Reyes Mantilla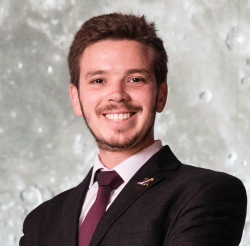 Junior Spacecraft Controller, SES Satellites
Camilo Andrés Reyes Mantilla joined SES Satellites as an intern in the Portfolio & Segment Marketing department while completing his Masters in Satellite Technology at the University of Würzburg in Germany. As a marketing intern, he worked primarily on writing technical content and collateral about the SES-17 NGSO satellite and the O3b mPOWER MEO constellation—both part of SES's next generation of satellites required to build the network of the future—to be used in the company's regional offices. Camilo consistently goes the extra mile in this work to translate everything into both Spanish and Portuguese so that his technical writing can be distributed in Latin America and the Caribbean without navigating a difficult language barrier. For his work and dedication, he was recently offered a full-time position at SES as a Junior Spacecraft Controller. Camilo also recently completed his Master's thesis on optical communication systems for small satellites.
Prior to joining SES, Camilo worked as a Mechanical Engineer while completing his Bachelor's degree at Los Libertadores University in Colombia, in 2013 he also served as a STIEP intern at the Rotorcraft Aeromechanics Branch at NASA Ames, in 2017 he did his bachelor thesis for six months at the department of space affairs at the Colombian Air Force, and participated in the first Latin American crew at the Mars Desert Research Station in Utah as the crew engineer. Camilo also supported the weekly technical meetings of the Colombian Space Agency as a volunteer technical advisor. The agency is aiming to monitor farmland, provide satellite imagery to local authorities and monitor the effects of climate change along the coasts of Colombia via their CubeSat Social program. Camilo designed the orbits of the proposed constellation of two 6U CubeSats and also assisted the executive director in technical meetings with international partners.  Camilo received a scholarship to attend the International Space University in 2016 at the Israel Institute of Technology. He went on to attend many industry events, including the Workshop on Space Technology for Socio-Economic Benefits and the International Astronautical Congress in Guadalajara, where he presented his paper on Policy for Environmental Security in Latin America. Camilo has served on three different delegations for the Space Generation Advisory Council (SGAC) at the general session of the United Nations Committee on the Peaceful Uses of Outer Space. In 2019, he was granted a scholarship by the United Nations Office for Outer Space Affairs (UNOOSA) to present at the workshop for Global Partnership in Space Exploration and Innovation in Amman, Jordan. In the same year, he received a global grant from SGAC to attend the 35th Space Symposium in Colorado Springs.
Outside of work and study hours, Camilo has supported the Strategic Partnerships Team at SGAC for 2 years. His responsibilities in that role include helping to obtain financial resources for organizing events in different countries and regions and providing scholarships to students and young professionals to attend these events. Camilo has given multiple talks on aerospace and satellites to students in his home nation of Colombia, as well as in Peru, Uruguay, Chile and Mexico. He also serves as a teaching assistant at the International Space University as part of their new virtual Interactive Space Program and their Southern Hemisphere Space Studies Program.