Valentina Luchetti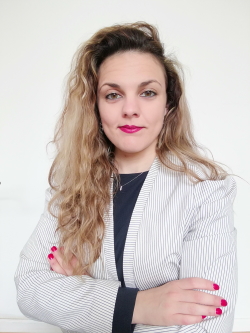 Operations Manager, Space Generation Advisory Council
Valentina joined the Space Generation Advisory Council (SGAC) as full-time Operations Manager in early 2021 after many years spent as a volunteer for the organization. Before taking on her current position at SGAC, she worked as a Product Line Manager and Customer Program Assistant for Airbus during her last year at university, where she worked with many internal and external stakeholders at all business levels, often representing the company in meetings with customers for analysis of product installation and requirements. Before Airbus, Valentina spent 5 years working with EUROAVIA, the European Association of Aerospace Students. She served in a variety of roles for EUROAVIA, beginning as Co-Chair of the Pisa branch of the organization before moving on to become Chair of the Communications and Expansion Department and Co-Chair of the Executive Committee as a Member of the Board of Directors. In her position as Co-Chair of the Executive Committee, Valentina worked tirelessly with an international team to bring EUROAVIA to the next level. Her efforts resulted in the organization winning an EU grant and also in restoring relationships with big industry players, including Airbus.
In her role as Operations Manager for SGAC, Valentina has constantly brought new, valuable ideas to the table and initiated strong business improvements for the organization and space sector as a whole. She took a remarkably short time to understand SGAC's operations after being nominated to the position and quickly moved on to not just managing current activities but also starting new ones for the organization. In her work with both SGAC and EUROAVIA, Valentina has also served as a delegate to various events, including the European Space Generation Workshop. She has built leadership skills and experience in every stage of her career, even while earning her degree at the University of Pisa, where she led a team of four colleagues in the Airbus Sloshing Rocket Workshop. The workshop required teams to design, build and fly a low-cost reusable rocket while it is destabilized by the movement of water stored in an unpressurized tank. Valentina's team was selected as one of 5 finalists in the workshop.
Outside of official work hours, Valentina has long volunteered her time not only with SGAC and EUROAVIA but also the Italian Association of Aeronautics and Astronautics (AIDAA). While serving as Chair of the Communications and Expansion Department for EUROAVIA, she was asked by AIDAA to establish a collaboration between the two organizations to publish a magazine, allowing EUROAVIA members to publish articles in the AIDAA journal. Before being hired as a full-time staff member by SGAC, she served as part of the Space Exploration Project Group, during which she conducted the Poland Mars Analogue Simulation as a Planning and Scheduling Team member. Valentina also contributes to her community as a blood donor and first aid volunteer.