Ryan Carlisle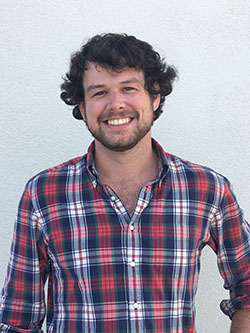 Senior Manager, Launch Mechanical Systems, SpaceX
Ryan Carlisle began his career at SpaceX in 2011 as a Launch Integration Engineer just after graduating from Yale University with a B.A. in Mechanical Engineering. He served on the team that designed and constructed the transporter erector—used to carry the Falcon 9 rocket from the hangar to the launch pad, raise the rocket and release it for launch—for SpaceX's launch pad at Vandenberg Air Force Base in California. For his first four years at the company, Ryan supported engineering and upgrades for the launch mechanical systems at Vandenberg and at SpaceX's launch pad at Cape Canaveral Air Force Station in Florida.
Ryan was promoted to lead the Launch Mechanical Systems team in 2015. He oversees the design and engineering of mechanical systems at each of SpaceX's launch sites in this role, including hangar tooling, key recovery equipment and ground support equipment systems for flights with crew. In addition to transporter erector design and upgrades, Ryan also works on new ground and recovery systems including the Crew Access Arm used to help astronauts board SpaceX spacecraft atop Falcon 9 rockets and a new drone ship recovery system. Ryan was promoted to Senior Manager of Launch Mechanical Systems in 2016. While he is currently responsible for the ground systems that will support SpaceX's new heavy lift rocket, Falcon Heavy, his systems will also support NASA's Commercial Crew program for human space transport.
Ryan is described by colleagues and peers as a natural and motivating leader, a valuable and enthusiastic team contributor, and a dedicated mentor. Early in his SpaceX career, he developed a reputation as someone who would track down any issues his team was having and find pragmatic solutions. Ryan has been recognized internally as part of the top percentile of managers at SpaceX and is known for choosing projects that are slightly outside his team members' typical job responsibilities, allowing them to grow and explore new areas. In addition to his work within SpaceX, he has been an important representative in launch systems certification for NASA and the United States Air Force, including NASA's Commercial Crew Program and the Air Force's Evolved Expendable Launch Vehicle program for launching national security satellites.
One of Ryan's greatest accomplishments at SpaceX was leading all design and engineering for the new transporter erector at SpaceX's newest launch pad at Kennedy Space Center's Pad 39A. His team was tasked with building a transporter erector that could take on a full schedule of Falcon 9 and Falcon Heavy launches to send satellites to orbit as well as supplies and astronauts aboard the Dragon spacecraft to the International Space Station. The new transporter erector is stronger than SpaceX's previous TEs and is also smaller in cross section and more efficient than previous versions. This design has also been uniquely optimized for rapid, reliable and automated processing and launching. The new TE has been used for multiple successful launches since being put into use in early 2017.
In addition to his work as a mentor within SpaceX, Ryan has worked with new engineers and students in the community since his undergraduate time at Yale. He regularly attends and supports industry events, including Air Force and national security functions.