Luke Clancy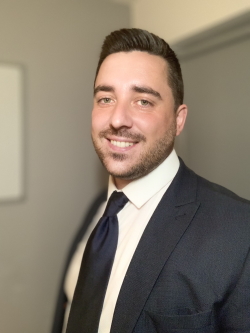 Director of Solutions Engineering, Speedcast
Luke began his career at Speedcast in 2016 after a 10-year career in the military and 3 years as Technical Project Manager for Hermes Datacomms. He served as Senior Solutions Engineer for more than 4 years at Speedcast before being promoted in January 2021 to Director of Solutions Engineering. In his current role, Luke manages a team of 6 direct reports across the Europe, Middle East and Africa (EMEA) regions. He is highly sought after by many of Speedcast's clients as an engineer, designer and point of contact for his skill, honesty, creativity and general positive attitude. Luke has completed a multitude of complex and challenging projects at Speedcast, including his design of a full communications infrastructure in a remote area of Mozambique. His design incorporated VSAT, radio and internet fiber connections in a greenfield oil and gas exploration project and was flexible enough to accommodate any requirements during service operations. Thanks to Luke's efforts, the final solution the client received was an end-to-end autonomous IT and telecoms package delivered at greenfield locations in remote Mozambique, including 24/7 onsite support, crew welfare systems and training for local Mozambican staff members.
Since joining Speedcast, Luke has been responsible for several of the company's critical customer award successes. He created the design, costing and financial modelling system that Speedcast uses to generate customized quotations for customers across the globe. This system has helped to bridge and align the company's global technical and commercial functions in a much-needed way. Luke has also worked on several strategic business development campaigns and key customer capture activities that have led to Speedcast entering new markets. In particular, his technical problem-solving skills and practical approach to engineering have helped to overcome numerous technical and commercial challenges, allowing several leading energy and mining organizations to prosper in remote and difficult locations. Luke is known for his very broad knowledge of subject matter across all of Speedcast's business units, including Energy, Enterprise, Cruise and Maritime. This knowledge allows him to provide creative ideas for increasing productivity and effectiveness across the company.
Outside of work, Luke dedicates time to his community as a volunteer for the Scout Association and as a coaching assistant for the Bayston Hill Juniors Football Club. He has served as both a Scouts section leader and a coaching assistant since 2014. In his role, Luke helps Scouts develop skills such as teamwork, time management, leadership, initiative, planning, communication, self-motivation, cultural awareness and commitment.