Brandon Marsella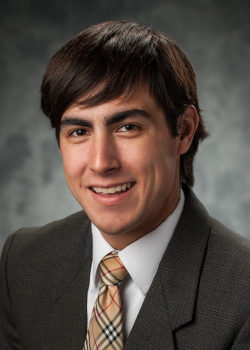 Guidance, Navigation and Control Engineer, The Boeing Company
Brandon joined Boeing in 2013 after a year-long internship with the company, during which he worked with a team of 15 other engineers on a project to integrate a more cost effective and sophisticated star tracker and inertia rate unit onto a Boeing 702MP satellite. In his current role as a Guidance, Navigation and Control Engineer, he has taken on a variety of cross-functional projects at Boeing, including the validation of flight software for the first commercial all-electric satellite, of which more than six were successful in their missions. He developed "lost-in-space" Star Tracker algorithms for the company's CST-100 Starliner Crew Capsule, which allows the CST-100 to use its imaging camera installed for docking with the International Space Station as a temporary star tracker. Brandon also advised as an Enterprise Leader and tested the algorithms for the Vision-based Electro-optical Sensor Tracking Assembly (VESTA) and was then asked to lead the updated design of a U.S. government satellite program as Attitude Control Subsystem (ACS) System Engineering Lead. Before taking on his current role, he supported the Customer Operations Support Center (COSC) for 5 years as a Flight Engineer assisting Boeing's satellite customers and working on anomaly root cause corrective actions. Brandon has trained many customers across the U.S., Luxembourg, Japan, France and Mexico on how to fly Boeing satellites and has quickly returned those satellites back to service after unplanned outages.
Brandon has flown a number of satellites in the Boeing Mission Control Center (MCC), including 3 missions as ACS Lead and 9 more in other roles. He was selected as the ACS Lead after only 4 years at the company due to his passion for leadership and technical aptitude. Brandon successfully led the 3 mission teams through many challenges, including flying new hardware and software, flying a unique pointing configuration and flying a mission on the first satellite program while simultaneously flying the rehearsal on the subsequent program. All 3 missions were met with great success, achieving all objectives on schedule and amid staffing constraints. Brandon is currently preparing to fly the company's O3b mPOWER system, a Medium Earth Orbit (MEO) constellation designed to bring flexible high-bandwidth, low-latency internet connectivity across the world. He is well versed in satellite operations and anomaly recovery and has advised commercial satellite customers on 4 continents on a range of operational techniques, including data object management, Solar Tacking, Xenon Ion Propulsion (XIPS) station keeping and station changes and eclipse conops.
Outside of work hours, Brandon volunteers his time in a variety of ways, including his recent support of a local nurse appreciation week drive in which he wrote thank-you letters to front-line workers. He has volunteered for the past 5 years with Boeing's high school summer internship program, serving as a mentor to students by offering career advice and technical training. Brandon has also volunteered as an Alumni Advisor to the California State Long Beach Chapter of Pi Kappa Alpha for 7 years. He facilitates annual officer transition retreats, goal-setting sessions and budgeting meetings for the organization, as well as serving as a mentor to budding student leaders, one of whom now works for Boeing due to his guidance.