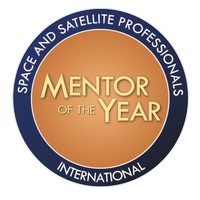 Donna will be honored along with this year's "20 Under 35" outstanding young professionals at the 16th Annual Future Leaders Celebration on October 5
(September 21, 2021 – New York City) – The Space & Satellite Professionals International (SSPI) today announced that it will present its 2021 Mentor of the Year Award to Donna Potter, Former Senior Executive Director of Research and Development at Maxar, now retired. Donna will be honored on October 5 at SSPI's 16th Annual Future Leaders Celebration for the attention, support, inspiration and guidance she has provided to young professionals throughout her career. During the Celebration, SSPI will also honor the 20 Under 35 space and satellite professionals to watch in the coming years and present three of them with its Promise Award for outstanding achievement.
"Nominations for Mentor of the Year are usually accompanied by endorsements of candidates from the people they have mentored," said executive director Robert Bell. "In our sixteen years of presenting this award, I have never read so many gripping, heartfelt descriptions of a mentor's work and its impact as accompanied Donna's nomination. This is a person who changed lives for the better and guided women in particular into successful and rewarding careers that ultimately benefit our entire industry."
The 2021 Future Leaders Celebration (www.satfuture.com) will take place live on October 5 at the Computer History Museum in Mountain View, CA in conjunction with the Satellite Innovation 2021 conference, produced by SatNews publishers. The proceeds of the Celebration go to fund SSPI's educational, professional development and industry growth initiatives.

The SSPI 2021 Mentor of the Year:
Donna Potter
Senior Executive Director of Research and Development, Maxar (retired)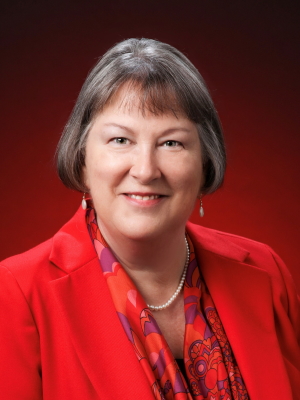 Until her retirement in 2019, Donna Potter served as Senior Executive Director of Research and Development at Maxar, after she originally took on the position at Space Systems/Loral (SSL) in 2011. She managed the research and development portfolio for SSL and later Maxar, furthering the technologies the company needed to remain competitive in the GEO communication satellite market. Donna's responsibilities included crafting strategy for new technology development and driving progress and productivity on a wide array of technical projects. Along the way, she also helped employees develop critical project management and technical leadership skills, which resulted in multiple researchers publishing technical papers and earning patents under her leadership. She was instrumental in SSL's transition from working exclusively with commercial customers to executing government contracts, including the Spider program for in-space robotic assembly of spacecraft and the Psyche mission to explore an asteroid.
Donna has consistently made time throughout her career to mentor others both within her companies and the industry as a whole, even taking time out for them after her retirement. As a manager, she provided frequent opportunities for her subordinates to learn more about leadership, including organizing a book club to read and discuss The Ideal Team Player. Donna has served as a role model for many women seeking to improve their leadership skills and rise through the ranks and went the extra mile with several mentees to help them adopt strategies to be taken more seriously in positions of authority. Throughout the growth process, she consistently provided emotional support in addition to strategic guidance even when dealing with uncomfortable situations such as harassment.
While at SSL, Donna served as the executive sponsor for a newly formed women's Employee Resource Group (ERG). She worked closely with the leadership team to help them formulate a shared leadership model, where leaders took turns facilitating meeting and stepping up to do what was needed. This new system led to a particularly efficient and effective ERG, where a number of Donna's mentees were able to ease into leadership experience and grow while helping others to do the same.
Even after retiring in 2019, Donna continues to support her mentees. She participated in a monthly Zoom group with 7 of her female mentees from Maxar at the start of the pandemic to reconnect and provide mutual support. Donna helped to provide a compassionate and safe environment for those women, who were struggling with a variety of challenges. The Zoom group gave all 7 women a place to be heard and supported by their peers, allowing them to cope with the worst the pandemic had in store both at home and work. Read more about Donna.

About SSPI
Founded in 1983, Space & Satellite Professionals International (www.sspi.org) is on a mission to make the space and satellite industry one of the world's best at attracting and engaging the talent that powers innovation. The space and satellite business has never seen a time of greater experimentation and disruption than we see today. Investment is the fuel for transformation, but people are the engine. SSPI helps the industry attract, develop and retain the talented people it needs to keep the engine turning. People who connect through high-profile events and gain recognition from prestigious awards. People who rely on SSPI for a broader understanding of the industry as much as for individual networking and career mentoring. From young people seeking a career path to industry veterans with wisdom to share, SSPI connects them all.
Talent, investment and opportunity flow to industries that make a difference. SSPI is the only organization that also promotes the enormous value of space and satellite through dramatic stories of our technologies and companies making a better world. Those stories overturn misconceptions about the industry that hold it back. They inspire our people and attract new ones to the industry. They help justify investment and give new customers a reason to care about our services and products. Through the stories we tell and the people we serve, SSPI inspires the growth of the $1 trillion space economy of the future.
For More Information
Victoria Krisman
Communications Manager
Space & Satellite Professionals International
vkrisman@sspi.org
---