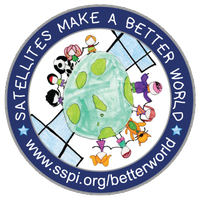 (December 15, 2020 – New York City) – Space & Satellite Professionals International (SSPI) today released Uncovering the Hidden Arctic, its newest Better Satellite World video. It describes how earth observation from space and data analytics on the ground make it possible to monitor changes to Arctic weather and sea ice, climate-inducted shifts on land and environmental compliance around the world.
While the rest of the world fears rising sea levels, the warming Arctic is opening new shipping routes that promise to cut travel times. New fishing grounds will help feed the world, and new mineral deposits may supply the next generation of electric cars and wind turbines. Yet the hazards of the Arctic remain, while the risks of climate change grow every year. The video explores the contribution of Kongsberg Satellite Services (KSAT) to better management of a changing world, from Synthetic Aperture Radar (SAR) analysis of Arctic ice to identification of toxic algae blooms and oil spills.
"In 2019, KSAT analysts played an important role in the cross-pole expedition of extreme adventurer Mike Horn," said executive director Robert Bell. "He and his fellow explorer Borge Ousland were cut off from their ship by deep crevices in the melting ice. It was analysis of SAR data from KSAT experts that found a path for the explorers to make their way to safety."
Uncovering the Hidden Arctic debuted at SSPI's 2020 Better Satellite World Awards Celebration on December 7. You can watch it now on SSPI's website and on Youtube.

About SSPI
Founded in 1983, Space & Satellite Professionals International (www.sspi.org) is on a mission to make the space and satellite industry one of the world's best at attracting and engaging the talent that powers innovation. The space and satellite business has never seen a time of greater experimentation and disruption than we see today. Investment is the fuel for transformation, but people are the engine. SSPI helps the industry attract, develop and retain the talented people it needs to keep the engine turning. People who connect through high-profile events and gain recognition from prestigious awards. People who rely on SSPI for a broader understanding of the industry as much as for individual networking and career mentoring. From young people seeking a career path to industry veterans with wisdom to share, SSPI connects them all.
Talent, investment and opportunity flow to industries that make a difference. SSPI is the only organization that also promotes the enormous value of space and satellite through dramatic stories of our technologies and companies making a better world. Those stories overturn misconceptions about the industry that hold it back. They inspire our people and attract new ones to the industry. They help justify investment and give new customers a reason to care about our services and products. Through the stories we tell and the people we serve, SSPI inspires the growth of the $1 trillion space economy of the future.

For More Information
Victoria Krisman
Communications Manager
Space & Satellite Professionals International
vkrisman@sspi.org
---