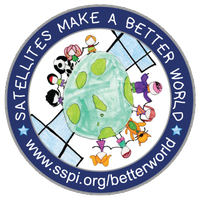 (February 20, 2020 – New York City) – Space & Satellite Professionals International (SSPI) today released The Digital River, its newest Better Satellite World video. It tells the story of how Viasat brought satellite connections to more than 1.8 million people in rural Mexico, giving them their first access to the online world.
Viasat was the first company in the world to introduce a new kind of satellite broadband—one with high speeds and competitive costs. More than a half-million Americans and US businesses subscribe to its broadband service. With its Community Wi-Fi program, based around a single Wi-Fi hotspot in the center of each village, the company has found a way to deliver service at a price that rural Latin Americans can afford.
"Viasat is one of more than 20 companies that has supported the Better Satellite World campaign, our industry's program to engage and educate future customers, employees and investors about the enormous contributions of space and satellite to life on Earth. It presents dramatic stories of satellite and space technology serving people, from agriculture and electric utilities to aviation, shipping, security, finance, healthcare, education, broadband and the Internet of Things. Through the stories we tell, SSPI inspires the growth of the $1 trillion space economy of the future."
You can watch The Digital River on SSPI's website and on Youtube.
About SSPI
Founded in 1983, Space & Satellite Professionals International (www.sspi.org) is on a mission to make the space and satellite industry one of the world's best at attracting and engaging the talent that powers innovation. The space and satellite business has never seen a time of greater experimentation and disruption than we see today. Investment is the fuel for transformation, but people are the engine. SSPI helps the industry attract, develop and retain the talented people it needs to keep the engine turning. People who connect through high-profile events and gain recognition from prestigious awards. People who rely on SSPI for a broader understanding of the industry as much as for individual networking and career mentoring. From young people seeking a career path to industry veterans with wisdom to share, SSPI connects them all.
Talent, investment and opportunity flow to industries that make a difference. SSPI is the only organization that also promotes the enormous value of space and satellite through dramatic stories of our technologies and companies making a better world. Those stories overturn misconceptions about the industry that hold it back. They inspire our people and attract new ones to the industry. They help justify investment and give new customers a reason to care about our services and products. Through the stories we tell and the people we serve, SSPI inspires the growth of the $1 trillion space economy of the future.
For More Information
Victoria Krisman
Communications Manager
Space & Satellite Professionals International
vkrisman@sspi.org
---