New Century Workforce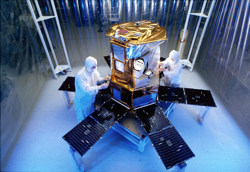 SSPI conducts the only multi-company, multinational study of the satellite industry's most vital resource: its workforce. 
The study combines in-depth interviews with human resources executives and the results of a global online survey of industry employees.  It explores recruitment and talent management, employee demographics, compensation trends and how engaged employees are in their work. Most important, it identifies where the industry's approach to talent attraction and development is holding it back and what employers can do about it individually and together.
The workforce study is a key part of SSPI's mission to attract the next generation of talent to one of the world's most exciting industries, and to help companies nurture the leaders who will take that industry into the future.   
2016 Study
Take part in the the 2016 Study, which is being conducted through the end of December 2015.   MORE
2015 Study
Are We Winning the War for Talent?
McKinsey & Company introduced the idea of a "global war for talent" in a 1997 report. Events have proved the consulting firm right beyond its wildest dreams. The most obvious example is the new class of companies – from Netflix and FaceBook to Google – whose major asset is talent.   Those companies are relevant because they form part of the competition for talent faced by the satellite industry.   MORE
Winning the Talent War

Get your copy of the industry's first workforce study: free to members, for sale to non-members.