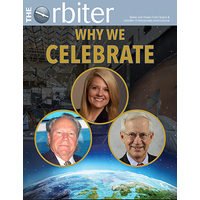 SSPI has released a new issue of The Orbiter: Why We Celebrate!
The global economy is growing, but politics are a mess. North Korea made nice at the Winter Olympics - and we watched not just on TV (via satellite) but online as well. 5G is coming fast, which could be good or bad. Smart and aggressive competitors are changing the industry by making improbable technologies actually work, and creating excitement, wonder, fear and doubt all at the same time.
One thing is sure: this year and next year are going to deliver plenty of surprises.
So, why celebrate? Because this is what a dynamic technology industry looks like. Opportunity is born, not in predictable times, but in uncertain ones. On March 13, we invite you to raise a glass with us in honor of uncertainty and its rewards.
In this issue:
Who We Celebrate

We're Having a Party!

Highlights from the SSPI/UKSEDS 2017 Competition

Curling with the Rocky Mountain Chapter

Plus more!
Read the issue now:
---